Famous for its busy harbour and the iconic Table Mountain which stands behind it, Cape Town is in fact one of three capital cities in South Africa, and a city not to be missed during any visit to South Africa. Another unmissable experience while in South Africa is a visit to a safari park or game reserve, where you might have the opportunity to spot the Big Five: lions, African leopards, rhinoceros, African elephants and African buffalo.
Fortunately, there are plenty of safari parks and game reserves near Cape Town, so you can combine an amazing city with the best of Africa's wildlife, all in one place. Offering the perfect day trips for animal lovers, the best safari parks and private game reserves near Cape Town are found within a couple of hours of the popular coastal city.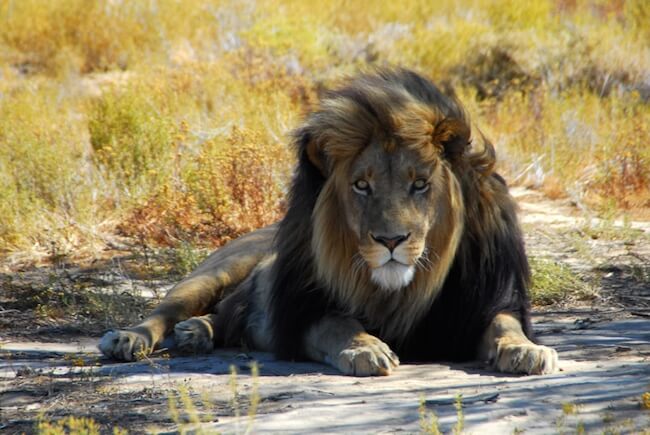 Inverdoorn Private Game Reserve
Set within the Klein Karoo, an arid landscape punctuated by stark mountains, found 2.5 hours outside of Cape Town, Inverdoorn is one of the leading Big 5 games reserves near Cape Town. Inverdoorn became a Big Five destination safari park in 2012, but before that became recognised for its conservation of cheetahs. Its conservation centre, Cape Cheetah, was found in 2001, and has helped to drastically grow the country's cheetah population – spot these extremely fast animals, reaching speeds of up to 120km/h, if you can. Other animals who live at the 10,000-hectare reserve include hippos, giraffes, zebras, springbok and wildebeest.
Garden Route Game Lodge
With the Langeberg mountains and the famous Garden Route coast as its backdrop, the Garden Route Game Lodge offers an unrivalled setting for safari tours and game viewing, located 3.5 hours from Cape Town. On the Day Safari, visitors can explore the game park in an open-top Land Rover, with an experienced ranger offering their knowledge and where to spot not only the Big Five, but also giraffes, zebras and numerous different antelope species. This brilliant safari near Cape Town has thought of everything – it also includes a stop for refreshments during your 2-3-hour adventure through the reserve.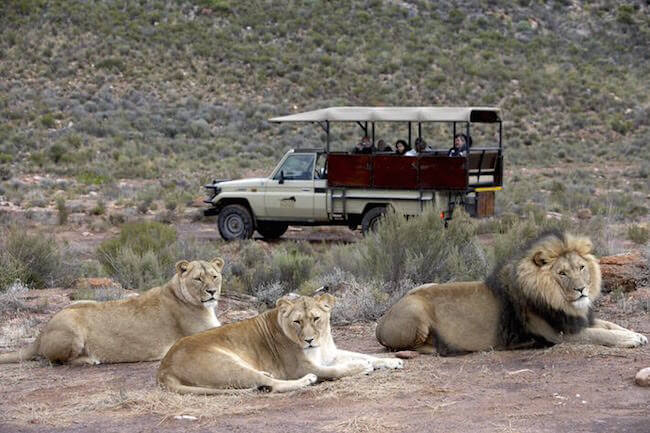 Aquila Private Game Reserve
Whether you have just a few hours or the entire day to spend trying to spot the Big Five, this safari park near Cape Town is able to accommodation. As well as a classic guided 4×4 game drive, the Aquila Private Game Reserve also offers a more adventurous Quad Bike Safari option, or for those really looking to get close to nature, a Horseback Safari. Whichever option you choose, you'll be led by a friendly guide with plenty of fascinating stories to share, and breakfast, a buffet lunch and use of the resort's pools are included.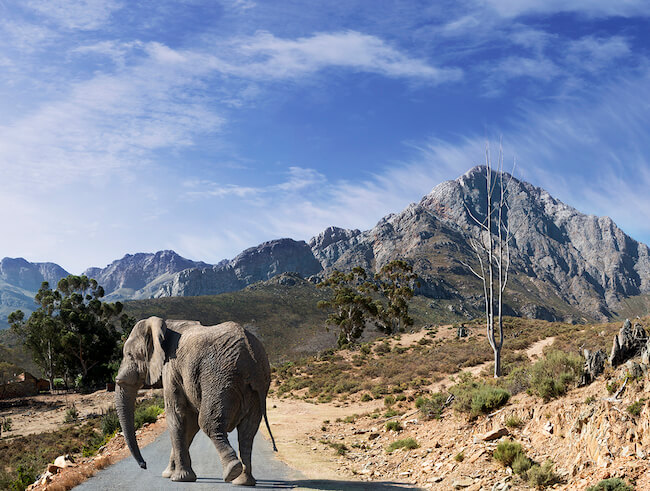 Fairy Glen Game Reserve
Tucked at the foot of the Brandwacht mountains, Fairy Glen is in fact the closest game park near Cape Town, found just an hour's drive from the city. With a choice of traditional safaris, horseback safaris and nature walks, the Fairy Glen safari experience aims to get you as close to the animals as is safe for them, with ample time to view them up close and take some amazing photos. Each of the guides knows the animals extremely well, and will be able to answer any questions you may have about the elephants, lions and other impressive animals that live here.
Buffelsfontein Game & Nature Reserve
This family-owned game reserve, spanning 1600 hectares, is one of the best game reserves near Cape Town, situated around an hour away on the west coast. They pride themselves on the variety of wildlife visitors can see in their reserve, which includes four of the Big Five, along with cheetahs, zebras, giraffes, wildebeest and more. Lucky visitors on an afternoon safari will also get to see the carnivore feeding – watch the lions, cheetahs and more feed on huge cuts of meat. It's also possible to even do a safari on two wheels at Buffelsfontein, with the unique Bike & Saddle game drive.
Sanbona Wildlife Reserve
Beneath the towering Warmwaterberg Mountains, amongst wide-open plains, the Sanbona Wildlife Reserve is one of the most scenic safari parks near Cape Town. As well as a wildlife-packed classic game drive, taking place in the magical light of either sunrise or sunset, visitors can embark on a unique boat safari, where along the waterways they can potentially spot the Big Five as well as hippopotamus and up to 40 different wildlife species. Besides the incredible wildlife, the reserve also has a variety of flora and fauna to admire, as well as ancient rock paintings.
Embark on a wild adventure in South Africa
See the Big Five and more close up with our spectacular tour of South Africa. Spending five nights in Cape Town, you'll have the freedom to visit any of these safari parks for an unforgettable game drive and one of the best wildlife experiences you'll ever have. Our time in Cape Town also includes a tour of the city, a cable car ride to the Table Mountain plateau, a day trip to Cape Point and many more of the top things to do in Cape Town.
Featured Image by Aquila Private Game Reserve