The capital city of China, Beijing is a vast sprawling metropolis which also proudly bears special corners of ancient China. At the end of a long day exploring the likes of the Forbidden City, Temple of Heaven and the Summer Palace – just the beginning of Beijing's endless list of attractions – you're going to want to wind down your day in one of the best restaurants or bars the city has to offer.
You'll find somewhere to eat or drink on every corner, whether it's a street food stand, a cosy family-run restaurant or a five-star establishment, but we've picked out the very best bars in Beijing perfect for a relaxed evening drink or showcasing what the Beijing nightlife is all about.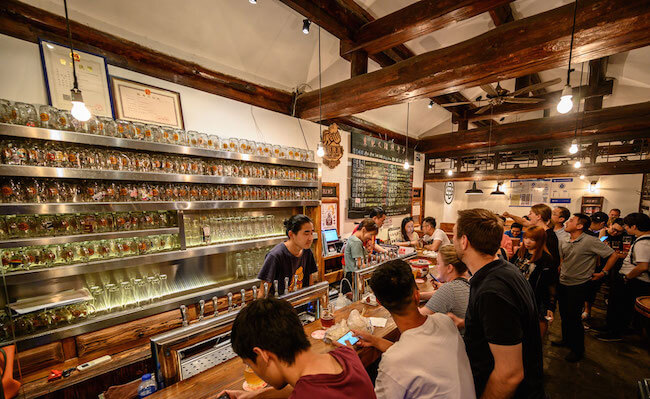 Image by Great Leap Brewing
Great Leap Brewing
With 4 bars in Beijing to choose from, Great Leap Brewing has come on in (great) leaps and bounds since its establishment in 2010. A blend of Chinese culture and cuisine with the Western craft beer scene, Great Leap Brewing have introduced flavours ranging from fruits to teas, spices and honeys into their unique craft beers. Each bar offers something, with GLB #6 being Beijing's original hutong (courtyard) brewery, and the GLB Lido being a taproom with over 30 different beers on tap.
Dusk Dawn Club
Hidden down a small alleyway in one of Beijing's charming hutongs, Dusk Dawn Club is more than just a bar – it's one of the best live music venues in Beijing, having won numerous awards from the likes of Time Out. Its distinctive artistic character makes it the perfect setting for a variety of live music; specialising in jazz, they also host big bands and rock concerts. If you're looking for some evening entertainment, there's something on almost every night at the Dusk Dawn Club. Sip a cocktail out on the veranda bar or check out the exhibition space with a drink in hand.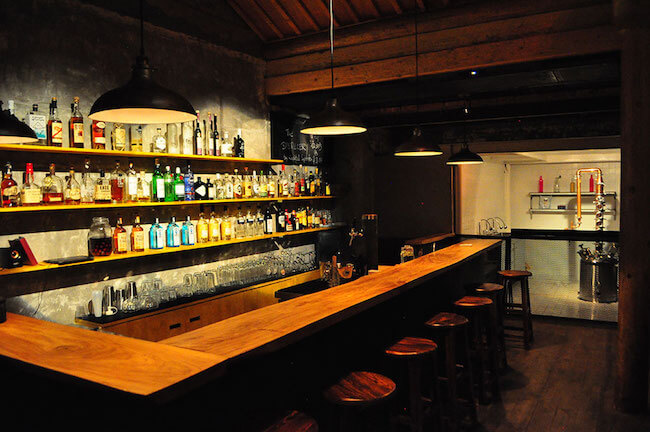 Image by Capital Spirits
Capital Spirits
Capital Spirits is a multi-award-winning bar in Beijing's Dongcheng district. It's one of the stand-out bars in Beijing as it's not only the first bar in Beijing, but the first bar in the world to dedicate itself to Baijiu and craft liquors. A spirit distilled from sorghum, wheat or rice, Baijiu is often acknowledged as China's national drink, and is in-fact the world's best-selling spirit, but it is very little-known outside of China. With its hand-picked selection of Baijiu, it's the perfect place to sample this traditional Chinese drink, along with a choice of Chinese craft beers and specialty cocktails.
Bistrot B Lounge Bar
The elegant Rosewood hotel is home to the exquisite Bistrot B Lounge Bar, a relaxed and laid-back setting for drinks day and night. This is the perfect spot for afternoon socialising, sipping on a premium rose champagne while perhaps sharing a delightful afternoon tea. By night, there's a carefully curated selection of Asian-inspired cocktails and long drinks to choose from, including the Beijing Paloma, with Sichuan peppercorns, the Lychee Martini, and the Sake Sour with yuzu puree.
Xian Bar
A chic whisky bar just outside of the 798 Art District, Xian Bar has to be one of the best Beijing bars around. It prides itself on its wide selection of whiskies from all around the world, while in the summer months we also recommend trying one of the craft beers on tap and relaxing out on the terrace, with amazing views out over the park below.
Discover the best of Beijing
Visit all of these incredible bars as well as Beijing's many historical sites, museums, restaurants, parks and shopping areas with an adventure you'll never forget on our guided tour of China. You'll get to enjoy 4 nights in Beijing, including sightseeing tours of Tiananmen Square, the Forbidden City, the Temple of Heaven, Summer Palace and the Great Wall of China, as well as another 19 days discovering the very best that China has to offer.
If our selection of bars has got you thinking about what to eat too, try these food experiences when visiting China. From traditional hotpot to the more unusual stinky tofu, it's a bucket list of foods you simply need to try during your time in China.
Featured image by Great Leap Brewing