China is undoubtedly a culinary giant on the world stage, with Chinese food and restaurants enjoyed all over the world, especially here in the United Kingdom. What many people don't know is that the food in China is quite different to what has become popular over here, with several well-known dishes being quite different to the real deal in China.
Getting a taste of authentic Chinese food is therefore a great reason to visit China, alongside immersing yourself in its incredible scenery, history and culture. If you're wondering what to eat in China, read on to discover what's worth trying and sink your teeth into these tasty food experiences in China.
Hot pot
Hot pot is one of the most popular foods eaten in China, found all over the country. Perfect for a winter's night, the hot pot is at the heart of a relaxed evening with friends or family. Cook your chosen meats and vegetables in a large pot kept at the centre of the table before dipping in a salty and nutty-tasting sauce.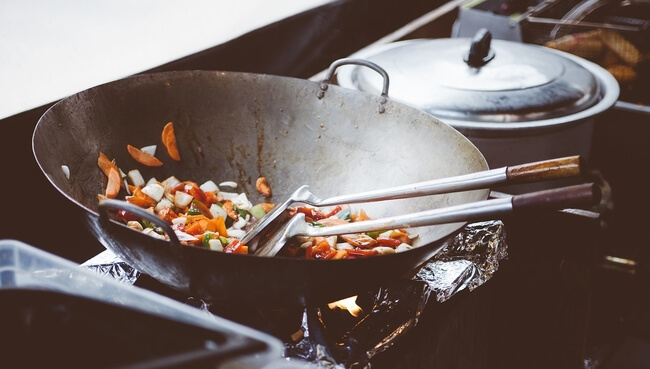 Chinese barbecue
A much-loved Chinese dish all over the world, Chinese barbecue is sold by thousands of street vendors and restaurants during the summer months especially. Smokey and spicy seasoned pork, served up on a skewer, is the most popular type of Chinese barbecue, but there are all kinds of variations cooked in the delicious Chinese barbecue spice blend, from lamb to vegetables and seafood such as squid.
Steamed stuffed dumplings (bao)
Perfect as a snack while you're on the go, you'll easily be able to get hold of steamed dumplings, known as bao, from a street food vendor during your travels. They come with a variety of fillings, with pork and shrimp being the top meat fillings, complemented with vegetables such as cabbage or courgette. If you want to eat them like the locals do, dip them in a sauce which blends black vinegar with chilli sauce.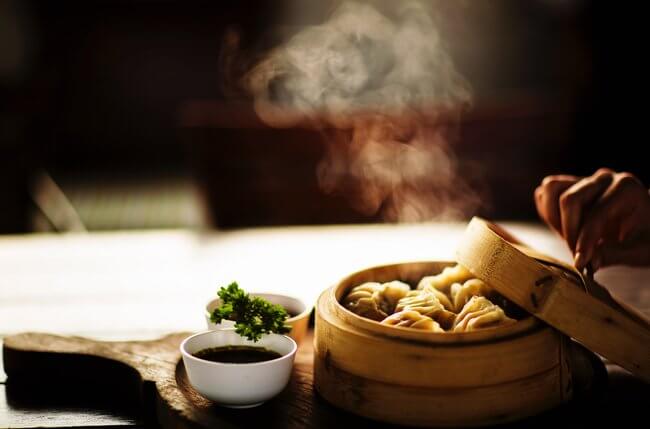 Stinky tofu
One of the most unique dishes in China, don't let the name put you off – stinky tofu is a delicacy you should definitely try during your visit. With an appearance as strange as its name, stinky tofu is a strong-smelling tofu which has been preserved for a long period. It has a taste resembling blue cheese, and is served alongside pickled cabbage.
Beef noodles
Beef noodles are a national institution, found in almost every restaurant (and household) in China. The noodles are made from scratch and topped with a mixture of shredded beef and whatever vegetables there are to hand. A hearty, humble and delicious dish, you have to try beef noodles and see why they're a top food eaten in China.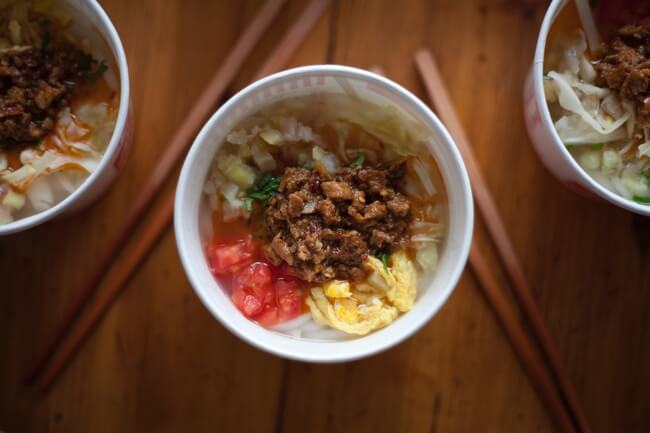 Century eggs/preserved eggs
Another unique food you rarely see outside of China, the century egg features in many dishes served in traditional Chinese restaurant. This unique, black, gel-like dish has been around for centuries, invented during the Ming Dynasty (1368-1644) and also used as part of Chinese medicine. Preserved in rice hulls, salt and clay amongst other ingredients, you can find century eggs braised and served with tofu, served with minced pork congee or cooked in a soup with mustard leaves. Find out more about this dish here.
Roasted duck
Also known as Peking duck, this is another food from China which has won over Western hearts. Carefully roasted so the skin is thin and crispy yet the meat is juicy and succulent, you won't taste better Peking duck anywhere in the world than in where it was first concocted: Beijing. Served with savoury pancakes as well as shreds of spring onions and a sweet bean sauce, authentic roasted duck is not to be missed while in China.
Tuck into what China has to offer
This is just the beginning of the amazing food experiences China has to offer – it's a cuisine which varies from region to region with so many diverse dishes to try. Taste your way around the country and discover the best of China with our Very Best of China tour, where you'll get to enjoy some of our favourite hand-picked restaurants and culinary experiences alongside some incredible sightseeing.
If you'd like to know some more about what to expect about eating in China before you go, take a look at our important advice for your first time in China, with tips on what to expect, tipping and much more.
Images by Frank Zhang and Pooja Chaudhary via Unsplash, Pexels via Pixabay and Jakub Kapusnak via Foodiesfeed.