One of the main reasons that China is such a popular travel destination is its spectacular nature, whether it's the variety of natural landscapes, which can range from lush forests to dazzling lakes and dramatic mountains, or the sheer biodiversity of this vast country, which is home to pandas, leopards, monkeys and elephants.
This biodiversity can not only be seen in China's fauna but also its flora, which encompass everything from dainty flowers to towering ancient trees. The botanical gardens in China are some of the best places to see the native plantlife brought together in one place. Here are some of our favourite China botanical gardens that are sure to delight garden lovers and inspire awe in anyone who loves nature.
Hangzhou Botanical Garden
South-west of Shanghai lies the city of Hangzhou and its impressive Hangzhou Botanical Garden, which overlooks the pretty West Lake. This public garden covers an enormous 230 hectares, and is not only a beautiful botanical garden but also a research facility where plant cultivation and the environment are studied. The pleasure gardens are split into different smaller gardens, such as the Bamboo Garden, home to a special bamboo called Damaozhu, which can grow a metre taller overnight. Also be sure to head to the Botany Appreciation Garden, where you'll find over 5000 plum trees, which bloom beautiful blossoms during the winter period.
South China Botanical Garden
The South China Botanical Garden is part of the Chinese Academy of Sciences, found just north of Guangzhou. It's the oldest and largest tropical garden in China, and spans over 700 acres. Split into numerous sections, highlights of the South China Botanical Gardens include the Long Dong Magic Forest, where two contrasting arboretums stretch across two peninsulas, each surrounding a manmade lake, and the Dinghushan Nature Reserve, home to over 2400 plant species. Other speciality gardens include the ginger garden, palm garden and lily magnolia garden.
Shanghai Botanical Garden
China's largest city garden, the Shanghai Botanical Garden is set in Shanghai's south-west suburbs and has won several awards at flower shows. The gardens are renowned for how different they look through the changing seasons. In spring, the blooming peonies, roses, azaleas and magnolias are a feast for the eyes, while in the summer the bamboo and water lilies come into their stride. Autumn brings red and yellow hues to the maples and poplars, and in the winter, the conservatory means you can still see over 3500 plant species from around the world, and even a miniature rainforest.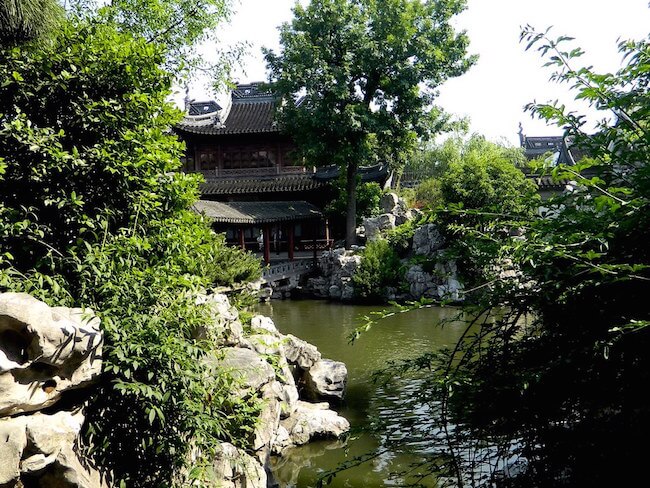 Image by Allan Watt
Yu Garden (Yuyuan Garden)
Also known as the Yuyuan Garden, the Yu Garden is another wonderful botanical garden to discover in Shanghai. The Yu Garden Shanghai is over 400 years old, dating back to the Ming Dynasty. Although it is smaller than other gardens already mentioned, it still features all of the elements of a Chinese classical garden, including rockeries, pavilions, ponds and halls, and there is plenty to see here.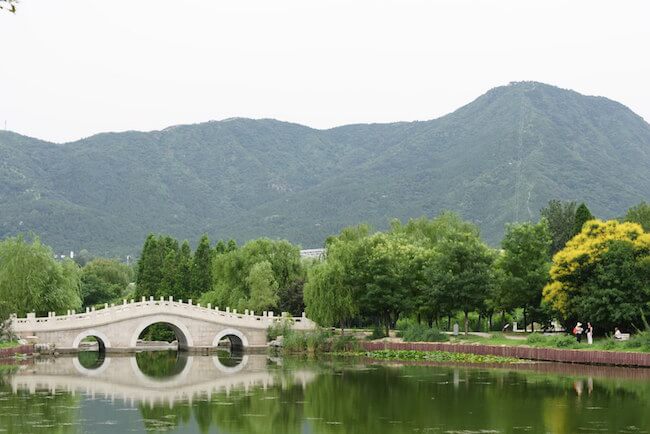 Image by b Cheng
Beijing Botanical Garden
Located between the Fragrant Hills Park and Jade Spring Hill 15 miles out of downtown Beijing, the Beijing Botanical Garden spans a massive 500 acres, including a plant exhibition area, nature reserve and scientific research area. The plant exhibition area is home to a variety of sub-gardens including a Chinese rose garden, lily garden, peony garden and many more, as well as an enormous display greenhouse, which features an indoor tropical rainforest, the Garden of Seasons and a Desert Plants zone.
The Great Rockery, which you'll encounter on entry to the Yu Garden, is over 50 feet high, and offers a birds-eye view of the garden from the top. Among the pretty buildings dotted throughout the garden are Cuixiu Hall, Wanhua Chamber and the impressive Sansui Hall. The highlight of the garden however has to be the Exquisite Jade Rock. This rock features 72 holes, and if water is poured over it, the water will flow out of all 72 holes.
Suzhou China Flower Botanical Garden
Ninety minutes west of Beijing, Suzhou is home to some of China's most exquisite gardens; so important are they that together they form a UNESCO World Heritage Site. This large botanical garden is home to over a million plants, and as a flower garden, the focus is on the more than 2000 flower species found here. Spring is the best time of year to see the flowers, which include hundreds of cherry blossoms, peonies and peach blossoms. The many ancient trees can also be appreciated year-round, include a 500-year old mulberry and thousand-year-old wisteria, as well as several others over a century old.
Discover the stunning gardens of China
Our tour of China with UK departures includes visits to some of the very best botanical gardens China has to offer, and so many more memorable places and experiences too. Included in our Very Best of China Tour is a visit to both the Yu (Yuyuan) Garden during your time in Shanghai, as well as a day in beautiful Suzhou marvelling at its several wonderful gardens. As well as visiting these stunning gardens, you'll be able to discover cities such as Beijing and Xi'an, landscapes such as the Li River, the native Giant Pandas and the diverse cuisine.
Featured image by Allan Watt