Australia – the only country that's also a continent – is one of the most remarkable places on earth. It's not just the incredible contrast in landscapes, from stunning tropical beaches to verdant rainforest to the supremely desolate Outback, but the sheer unrivalled scale that makes it the ultimate travel destination. And how better to survey these lofty landscapes than from a hot air balloon, drifting gently on the warm currents? Here are three Australian ballooning experiences you will simply never forget.
Sunrise balloon flight over Melbourne
Global Ballooning Australia are the experts in balloon flights Down Under, and they've taken more than 90,000 thrilled and enthralled visitors into Australia's endless, unbroken skies. The firm was set up by pilot and ballooning champion Kiff Saunders, who has more than 35 years' aviation experience, including 25 years in balloons. In fact, he has trained many of Australia's other balloon pilots and holds the Absolute Australian Altitude Record for hot air ballooning.
Let Kiff's team create the experience of a lifetime as you enjoy a breathtaking sunrise balloon flight over Melbourne. Rising with the sun, you will watch the city stir into life from your eyrie, bathed in the golden-orange glow of an Antipodean dawn. Your 360-degree view will take in every one of the city's legendary landmarks, including Eureka, Melbourne Cricket Ground and Port Philip Bay, and you will land with a completely new perspective on Australia – and on life.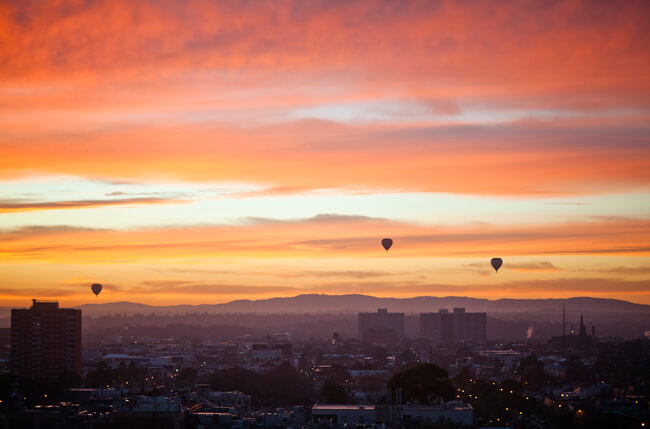 Soar over the Cairn Highlands 
The Cairn Highlands – also known as the Atherton Tablelands – is one of Australia's most picturesque and internationally renowned locations. Its spectacular scenery and astonishing natural wonders has made it the ballooning capital of the world – and Hot Air will give you the perfect bird's eye view. In business for more than two decades, they operate the largest fleet of hot air balloons in Australia, so nobody knows more about taking to the skies.
Rainforest-fringed mountains and tranquil country landscapes will stretch beneath you like a magical tapestry as you glide gently through calm skies, soaring high above wheeling birds. The photographs you take will be talking points for years to come, and your friends will be fascinated to learn about your incredible voyage of discovery.
See the unique Australian Outback
Your balloon flight from Alice Springs will begin just as the morning light begins to illuminate the rugged MacDonnell Ranges. The endless, stark Outback will stretch as far as the eye can see as you spot iconic red kangaroos and unique flora and fauna. Even when you land, your experience will not be over as you enjoy the eerie silence of the desert whilst savouring a refreshing glass of sparkling Australian wine or exotic tropical fruit juice. As their name suggests, Outback Ballooning are the only Australian balloon company specialising in Outback trips, and with 30 years' experience and a quarter of a million satisfied customers they know how to deliver an experience you will never forget.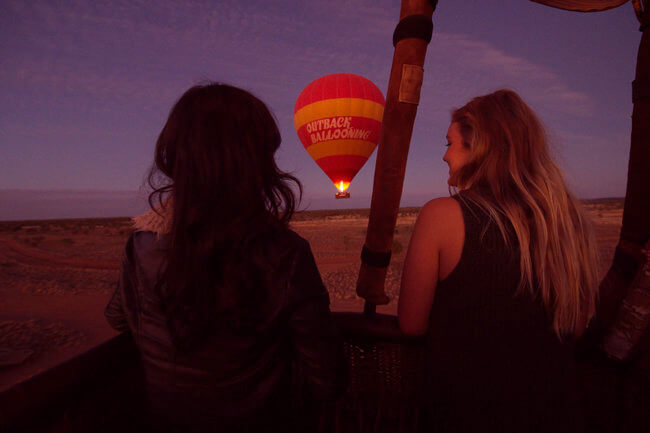 However, seeing the Outback from the air should be only part of your Australian extravaganza – this amazing continent has so much to see and do that you could spend a lifetime exploring it and still experience just a fraction of its amazing attractions. As the experts in long-haul holidays, we'll bring you the very best it has to offer.
Images by Justin Tan via Flickr, Kyle Hinkson via Unsplash and Outback Ballooning.