Founded during the Western Zhou dynasty between 1041 BC and 771 BC, Pingyao is one of China's best-preserved ancient cities. Awarded World Heritage Status in 1997, Pingyao is one of the stand-out highlights of our China tours from the UK.
Although the city's origins date back almost 3000 years, this exquisite walled town flourished during the Ming dynasty especially (between 1368 and 1644), with many of its imposing watchtowers, stunning temples and elegant courtyards dating from that period. With a visitor pass, you can explore not only the pretty streets, lined with traditional residences, but also a number of Pingyao's attractions, such as its ancient temples and government buildings.
If you're wondering what to see in Pingyao, read on to find out about the best things to do in this outstanding ancient town.
Ancient Ming-Qing Street
At the heart of Pingyao's ancient city is Ming-Qing Street, a 450-yard-long street lined with stores that hark back to the town's past prosperity. Here you'll find over 80 stores selling antiquities and Chinese curiosities, as well as snacks and souvenirs. Wandering down Ming-Qing Street, it's easy to imagine shopping in the Chinese bazaars of centuries past.
Ancient Government Office
West of Ming-Qing Street is the Ancient Government Office, the largest of its kind in China. Throughout the Ming and Qing dynasties, over 100 magistrates worked and lived within its walls. Among the attractions within the office itself are the law court, where you can see a recreation of a trial, and the old prison, showcasing prisoner uniforms, bedding and other items from their cells, and even torture equipment.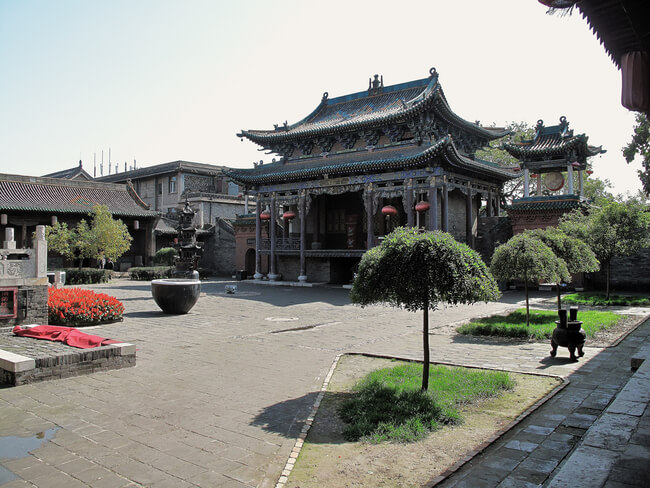 Confucius Temple
Be sure to also visit the Confucius Temple during your time in Pingyao: the best-preserved Confucius Temple in all of China. As well as being a place where followers would pay their respects to Confucius, the temple was also once a state academy, where scholars would take the imperial examination in order to serve as officials.
The Pingyao City Walls
See the entire city from above atop the Pingyao City Walls, which surround the entire city with a perimeter of around four miles. From a bird's eye view, the wall makes a tortoise shape, decorated with six gates, 72 watchtowers and 3000 battlements. While you can walk the entire length of the city wall, one of the best things to do in Pingyao is take a rickshaw tour, sitting back and admiring this ancient feat of architecture and what lies within.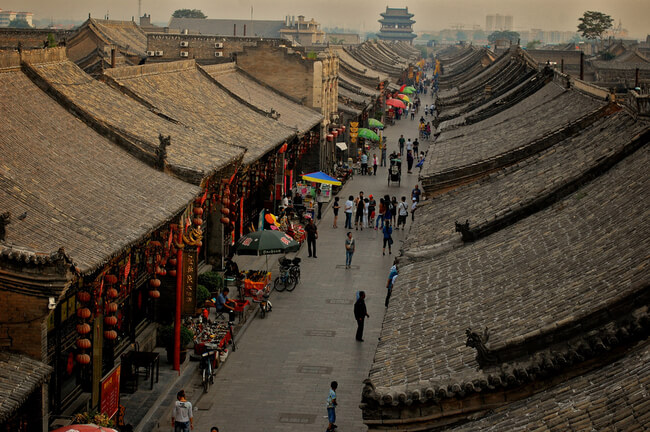 Rishengchang Exchange Shop
One of the first exchange shops to open in China in 1823, the Rishengchang Exchange Shop is now home to the Chinese Exchange Shop Museum, and gives some fascinating insights into trade and business in times gone by. During the Qing Dynasty, the currency was silver coins, although there were increasing concerns about how to carry and transport large sums of money in coin form. Exchange shops such as this were early banks, were the coins could be exchanged into bills, which were much simpler for the tradesmen to use. Fully restored in 1995, today you can take a tour of the Exchange Shop and see where the cashiers lived and worked.
Temple of the City God
East of Qing-Ming Street is the Temple of the City God, another of the ancient city's important temples. Here the local people worshipped three Chinese Gods: the City God, the God of Wealth and the Kitchen God, as well as eminent officials who vastly improved life in the city. Featuring several exquisite towers and pavilions, as well as several beautiful and coloured glaze decorations depicting life in the Ming and Qing dynasties, the Temple is also a beautiful and grand example of the city's architecture.
Discover the best that Pingyao and China has to offer
This is just the beginning of what you can discover in Pingyao. With the visitor pass you can enjoy access to all this and more: a grand total of over 20 attractions and historic buildings. There is also a whole host of other fascinating towns and cities to visit in China, with our 23-day tour of China covering the very best the country has to offer – take a look at the itinerary for full details on our incredible tour.
And finally, if you're looking to embark on your very first adventure in China, whether it's with us or going solo, be sure to follow this advice if you are visiting China for the first time. Packed with insider tips, it's sure to help you better prepare for your travels in this amazing and unique country.
Visit Pingyao with Distant Journeys on our escorted touring holidays to China. For more information, click here.
Images by aytalina via Pixabay and timquijano and Francisco Anzola via Flickr.