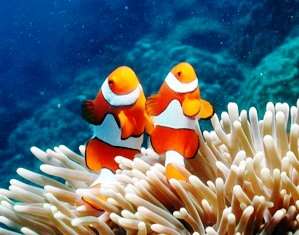 Three reasons to visit the Great Barrier Reef

Three reasons to visit the Great Barrier Reef
At Distant Journeys we pride ourselves on our Australia tours with Great Barrier Reef Trips included, and we would like tell you why you must visit one of Australia's incredible natural wonders:
Incredible Wildlife
The Great Barrier Reef is home to the largest coral reef system in the world, a coral system so huge that it is made up of thousands of reefs and nearly a thousand islands. The marine species that live in the Great Barrier Reef are beautifully unique and consist of humpback dolphins and whales, green sea turtles, and dazzling clownfish. If you visit the Great Barrier Reef you will be able to see the wonderful delights of these diverse creatures, in their glorious habitat.
Make sure you bring your camera!
Brilliant Activities
If you are looking for something to do whilst visiting Australia, the Great Barrier Reef is the perfect destination for to get involved in some brilliant activities. With gorgeous waters and exquisite marines you have a wide choice of outdoor activities to try. Why not swim in the warm waters surrounding the reef, or see some of the world's most diverse creatures with a snorkelling or scuba-diving trip?
If water sports don't tickle your fancy then don't worry. You will have the perfect opportunity to engage in other activities whilst visiting the Great Barrier Reef. You can relax on the gorgeous, white pristine sands, soak up the rays, engage in an exciting boat ride across the reef or snap some photos of the stunning backdrop.
Don't forget your sunblock!
A historical heritage
The Great Barrier Reef is a UNESCO World Heritage Site, a title which was given based upon the area's outstanding universal value. The Great Barrier Reef is declared as one of the most outstanding natural locations in the world, and is recognised worldwide for its incredible view, from outer space. Visiting this stunning location is the ultimate historical experience, and is so often a once-in-a-lifetime trip, so head on over to our website now and book one of our fabulous tours.
Don't miss out!
Image: Great Barrier Reef Encounter available Creative Commons
Save