Rotorua is one of the most romantic places on Earth, and when you visit it's easy to see why. Set on the edge of Lake Taupo on New Zealand's North Island, one of the main reasons people visit Rotorua is for its amazing geothermic landscapes. Vast lakes, incredible thermal pools and hot springs are interspersed with towering mountains and impressive volcanoes, including some which are still active today.
It's spectacular enough to see the Rotorua volcanoes in the distance but the ultimate adventure comes in getting close up to them, and even standing on the crater's edge! High levels of fitness are not always required to see these volcanoes from their peak; a Rotorua volcano tour comes in all kinds of forms, meaning there are many amazing ways to see the volcanoes of Rotorua for yourself.
Te Ara Ahi cycling trail
For the more active among us, cycling is the perfect way to see not only the volcanoes of Rotorua but also many of the other amazing natural and cultural sights the area has to offer, including the Maori village of Te Puia and the Whakarewarewa Forest. The Te Ara Ahi cycle trail begins in Rotorua, and travels all the way south to the Waikite Valley, although the volcanoes of the Waimangu Volcanic Valley can be reached in around 25km, around halfway along the trail.
Cycling through the Waimangu Volcanic Valley is a marvel; the world's youngest geothermal system, it was formed in 1886 as the result of a massive volcanic eruption, creating even more volcanic craters in its wake. Once you've arrived at the valley park, there are also several trails where you can explore the area on foot too.
The cycling difficulty varies between easy and intermediate, meaning you don't need to be super-fit to enjoy this two-wheeled adventure. There are several places to hire bikes in Rotorua, including Rotorua Cycle Centre, Planet Bike and Cycle Zone.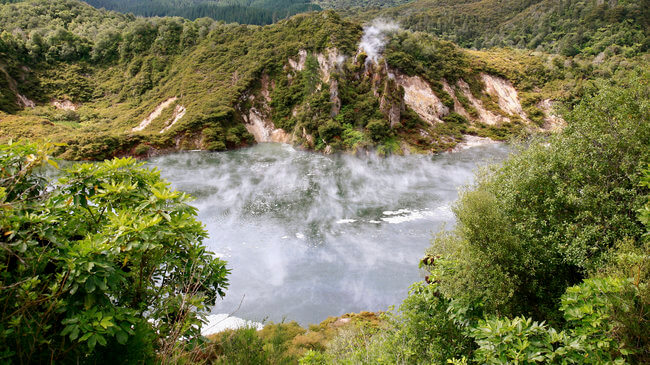 See Rotorua's volcanoes from the air by helicopter or floatplane
This a simply unforgettable experience not to be missed; flying over and even landing on the amazing volcanoes of Mount Tarawera and the Waimangu Volcanic Valley. With Volcanic Air, how you 'flight-see' is completely up to you; choose either a helicopter tour or a floatplane tour, which also gives you the option to descend and glide over the region's beautiful lakes.
Whichever you choose, you will definitely not be disappointed. With both the helicopter and the floatplane, you can fly over, land on and explore two of Rotorua's most iconic volcanoes. Mount Tarawera is a mighty volcano responsible for the largest eruption in New Zealand's recent history, while the White Island is not only New Zealand's only marine volcano but also its only permanently active one too, with smoke and ash constantly streaming out of its centre.
These flightseeing tours can also be combined with flights and cruises around other amazing sights in the area, such as the hidden geothermal valley of Orakei Korako and the Crater Lakes, which are undoubtedly best seen from the air.
Mount Tarawera Crater Walk
There are many pleasant Rotorua hikes you can enjoy, whether you're after a forest trail, a mountain climb or a gentle lakeside stroll. But the Mount Tarawera crater walk has to be one of the most thrilling and enjoyable. One of the most impressive volcanoes in the entire region, Mount Terawera is private Maori land, and therefore to climb it you need to join a hiking tour with Kaitaki Tours or Real Kiwi Adventures.
A 4×4 drive through New Zealand native bushland runs at least once a day from Rotorua to Mount Tarawera itself, before you embark on an unforgettable guided hike up this infamous volcano. During your hike, you'll be able to enjoy incredible panoramic views, including what remains of the legendary Pink and White Terraces, with truly spectacular views at the top. While at the summit, there is also the option to go into the heart of the volcanic crater.
The hike is a moderate difficulty, with the full experience taking around 4.5 hours, so a basic level of fitness is required.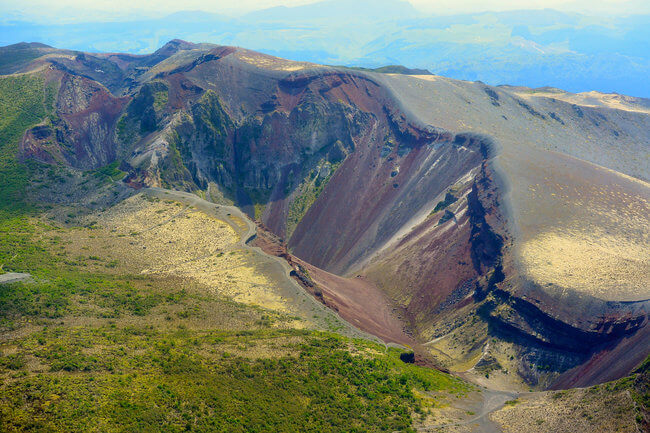 Images by Vasek Vinklat, Matt Biddulph and giiku via Flickr.