Mumbai, formerly known as Bombay, is a bustling metropolis located on the western coast of India. This captivating city is famed for its rich culture, delicious street food, and for being the birthplace of the contemporary Indian cinema industry.
You'll never be short of things to do and places to visit in Mumbai, with every corner of the city offering a glimpse into its fascinating history and heritage. Some of the must-see sights during your trip include the iconic Gateway of India, Chhatrapati Shivaji Maharaj Terminus, and the Elephanta Caves.
If you want to experience all that Mumbai has to offer, why not consider taking our Grand Tour of India? Our 26-day tour covers Mumbai's top attractions while exploring the beating heart of this mesmerising land, offering an immersive and memorable experience.
When is the Best Time to Visit Mumbai?
The best time to visit Mumbai is during the winter months, from November to February, when the weather is most comfortable for walking and exploring the city. During these months, temperatures are pleasant with minimal humidity and rainfall, making it easier to explore the bustling streets of Mumbai and its attractions.
The Elephanta Festiva, Mumbai's festival of dance and music, is also held in February. The festival is one of the most popular festivities in the city and welcomes performers from across India! If a festival in Mumbai sounds like your idea of fun, you might also wish to visit during March when Holi, the Festival of Colours, takes place in the city.
The Best Places To Visit in Mumbai
From famous landmarks to historical monuments, Mumbai is a city that offers a plethora of places to see and experiences to be had. Whether you're interested in history, architecture, or just soaking up the local atmosphere, you're sure to find something that appeals to you in Mumbai.
Gateway of India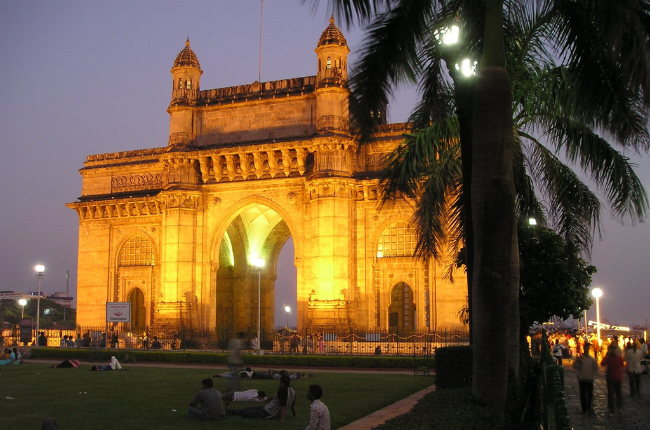 The Gateway of India is one of Mumbai's most iconic landmarks, located on the waterfront in the Apollo Bunder area. Built to commemorate the visit of King George V and Queen Mary in 1911, it's a symbol of the city's colonial history. The Gateway of India is a popular tourist attraction, enticing visitors from around the world who come to admire its intricate architecture and take in the stunning views of the Arabian Sea. Bollywood film fanatics might also recognize the Gateway of India as the filming location for the song "Jiya Dhadak Dhadak Jaye" from the film "Kalyug."
Elephanta Caves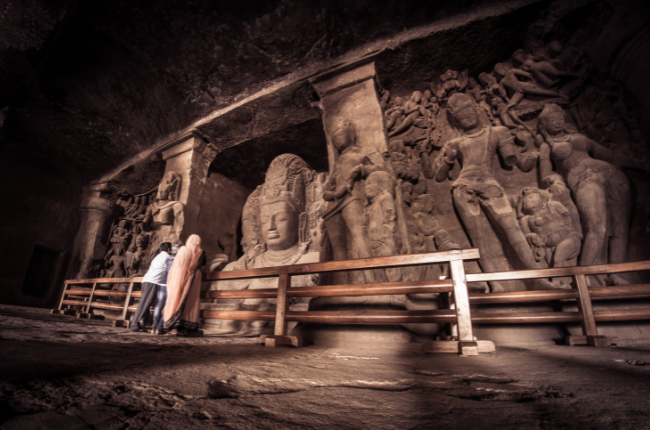 The Elephanta Caves are a series of ancient rock-cut caves located on Elephanta Island, in Mumbai harbour. The caves, renowned for their stunning rock-cut sculptures and ancient architecture, even hold prestigious UNESCO World Heritage Site status.
The Elephanta Caves are believed to have been created sometime between the 5th-8th centuries and offer a fascinating glimpse into ancient India. Make sure you watch out for the monkeys on the island. These curious little creatures are known to 'guard' the caves and can sometimes be aggressive in the search for food.
Taj Mahal Palace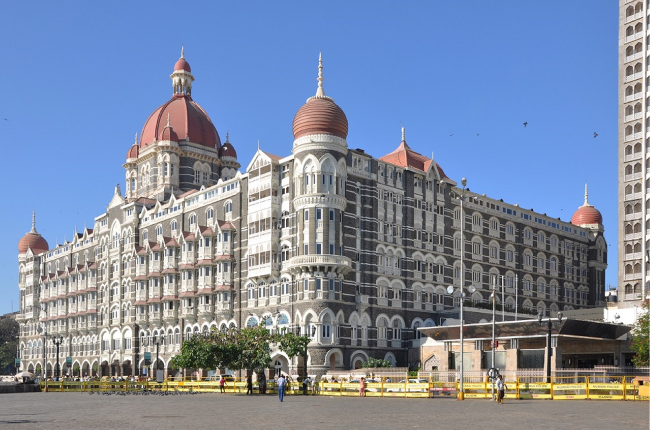 The Taj Mahal Palace is a luxury hotel located in the heart of Mumbai, overlooking the Arabian Sea. As one of the city's most famous landmarks, it has played host to a number of high-profile events, including numerous Hindi, Marathi and English film shoots. It's also the primary setting for the 1940 novel Night in Bombay.
Chhatrapati Shivaji Maharaj Vastu Sangrahalaya Museum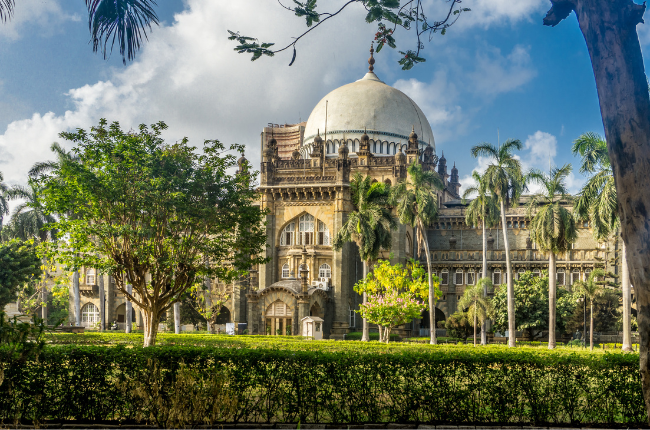 Chhatrapati Shivaji Maharaj Vastu Sangrahalaya, also known as the Prince of Wales Museum, is a museum located in the heart of Mumbai. The museum showcases a rich collection of artefacts and exhibits related to the art, culture, and history of India and the wider world. With its stunning architecture and fascinating exhibitions, the museum is a must-visit destination for visitors interested in history, culture, and the arts.
Haji Ali Dargah
Haji Ali Dargah is a mosque and shrine located off the coast of Mumbai, accessible via a passageway that connects it to the mainland. It is considered one of the city's most important landmarks and is widely regarded as one of the most beautiful and peaceful places in Mumbai. The Haji Ali Dargah is a popular destination for both pilgrims and tourists alike, who come to pay their respects and take in the stunning views of the Arabian Sea and Mumbai skyline.
Worli Fort
Worli Fort is a historic fort located in the Worli neighbourhood of Mumbai that dates back to the 17th century. The fort is considered one of the city's oldest fortifications, offering visitors a glimpse into Mumbai's rich history and cultural heritage.
Siddhivinayak Temple
This mesmerising Hindu temple is located in the Prabhadevi neighbourhood of Mumbai. It is dedicated to Lord Ganesha and is considered one of the city's most important religious sites, attracting thousands of visitors and devotees every day.
Marine Drive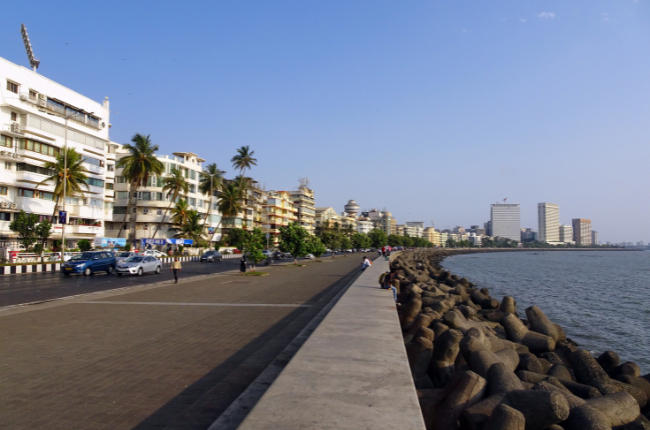 Marine Drive is a promenade located in Mumbai that stretches for around 3 km along the coast of the Arabian Sea. The promenade is often referred to as the "Queen's Necklace" due to the streetlights that illuminate the road at night, creating a stunning necklace-like effect. It's also known for its unparalleled views, street performers, and lively atmosphere, making it a great spot to watch the sunset.
Hanging Gardens
The Hanging Gardens, also known as Pherozeshah Mehta Gardens, are terraced gardens located in the Malabar Hill neighbourhood of Mumbai. The gardens are a popular attraction thanks to their lush vegetation and beautifully landscaped lawns, offering a peaceful retreat from the hustle and bustle of the city.
Taste Mumbai's Famous Street Foods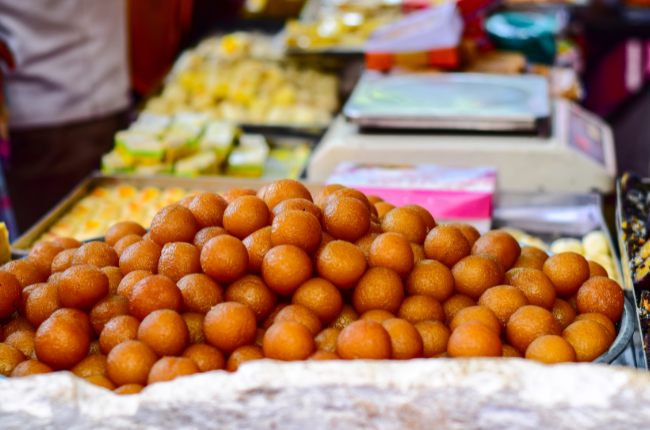 Mumbai's street food scene is amongst the best in the world, offering an abundance of delicious and diverse culinary delights. From spicy chaat to sweet pav bhaji, Mumbai's street food is a true reflection of the city's melting pot of cultures and flavours. One of the best places to sample Mumbai's street food is Churchgate Station, where vendors serve up delicious chaat, a popular street food made with a mixture of crispy crackers, spices, and tangy chutneys.
You might also wish to pay a visit to Carter Road, another street food hub with pop up vendors, cafes, and boutiques lining the street.
Such street food tours can be arranged as part of our Private Tours of India. A private tour with Distant Journeys is a great choice for those looking to experience a personalised and exclusive adventure in Mumbai.
The Best Dine-in Restaurants in Mumbai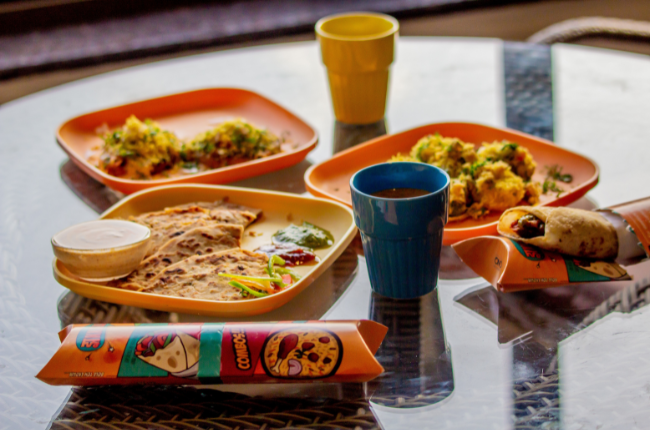 Alongside its vibrant street food scene, Mumbai is a city renowned for its dining culture – with options to suit every taste and budget. Whether you're in the mood for upscale restaurants or cosy cafes, traditional Indian cuisine or fusion dishes, Mumbai's dining scene is sure to delight.
Namak
Known for its delicious Indian cuisine, Namak offers a menu of classic dishes from across India. The vegetarian food, from the Paneer Zaffrani Tikka and the Nadroo Ke Kebab, is a must-try.
Shree Thaker Bhojanala
Shree Thaker Bhojanala is a well-known restaurant located in Mumbai, specialising in traditional Gujarati Thali cuisine. With a menu of authentic dishes and a warm and welcoming atmosphere, Shree Thaker Bhojanala is a must-visit on any tour of Mumbai. From flavorful dhoklas to spicy theplas, the restaurant offers a unique taste of the rich and diverse flavours of Gujarati cuisine.
The Bombay Canteen
Trendy and modern meet tradition at The Bombay Canteen. With a focus on local ingredients and contemporary cooking techniques, The Bombay Canteen serves up a range of inventive dishes that are sure to surprise and delight.
Nava
Nava is an innovative restaurant founded by chef Anushka Pathak. The restaurant aims to take a cutting-edge approach towards cooking, using ingredients that are sourced from diverse regions of India but can also be prominent in Modern European cuisine. Expect mouth-tingling flavours!
Masala Library by Jiggs Kalra
Masala Library is a high-end restaurant located in Mumbai that aims to serve memories, not just food. Under the guidance of renowned Indian food connoisseur, Jiggs Kalra, the restaurant takes visitors on a never-before-undertaken gastronomic voyage, serving up a range of innovative and beautifully presented dishes that are inspired by the traditional flavours of India.
The Best Cafes in Mumbai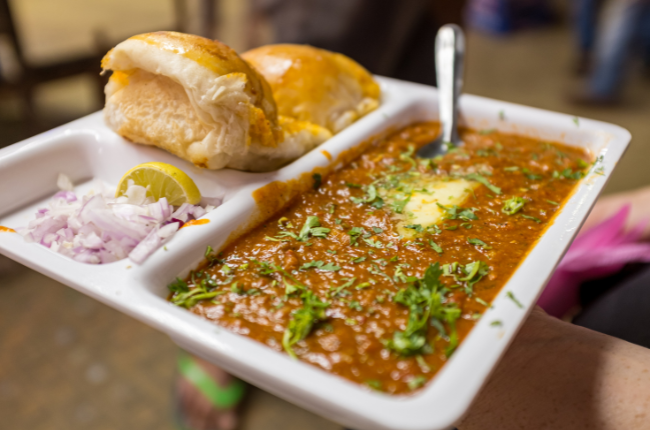 Alongside its street food scene, Mumbai is home to a thriving cafe culture that offers a range of cosy and inviting coffee shops.. Exploring the cafe scene in Mumbai is a must for any visitor. We've hand-picked our favourite cafes below, many of which serve up traditional Indian delicacies that are best served in a cafe rather than a restaurant.
Prithvi Cafe, Juhu
This quirky and energetic hangout spot is perhaps best known for its filled parathas, an India delicacy that we absolutely recommend you try during your stay.
Le15
Le15 Patisserie offers a little slice of Paris in Mumbai. Founded by Chef Pooja Dhingra, the café offers a range of freshly baked desserts – including their mouthwatering, award-winning macarons!
Taj Mahal Tea House, Bandra West
Experience the warming taste of authentic Indian Chai from the comfort of the Taj Mahal Tea House. Nestled amongst a charming, old-worldly lane in Bandra, the cafe is popular with tea connoisseurs and live music enthusiasts.
Bombay to Barcelona Library Cafe
Step foot inside Bombay to Barcelona and you'll instantly be greeted with a big smile and open arms. This friendly and inclusive cafe employs people from the streets of Mumbai, with the aim of helping them financially and providing job opportunities. Taking inspiration from his trip to Barcelona, owner Amin Sheikh has created an affordable menu that combines the best delights from Indian and Spanish cuisine.
Are you ready to explore Mumbai, the City of Dreams?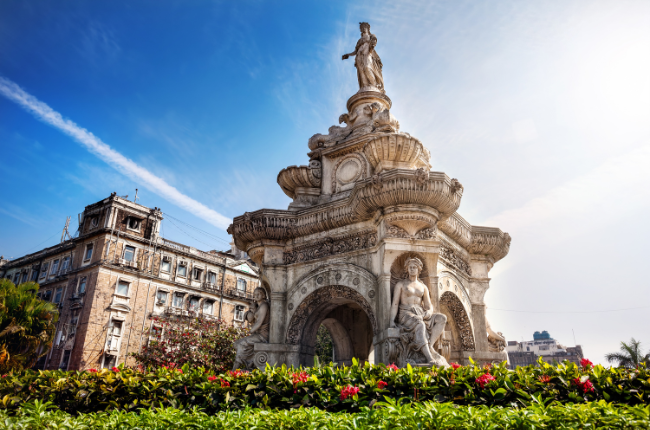 Mumbai is undoubtedly a vibrant and bustling city with a rich history and culture. From the famous Gateway of India to Siddhivinayak Temple and Marine Drive, there are plenty of places to visit in Mumbai. The city also boasts a thriving street food and dining scene, making it a food-lovers paradise.
If you're thinking of paying a visit to this fascinating city, then why not take a tour of India with Distant Journeys? Our Grand Tour of India is a stunning, 26-day tour that visits cities like Delhi, Shimla, Amritsar, Agra, Jaipur and, of course, Mumbai. We'll tour Mumbai by Dawn, visit the Elephanta Caves and even venture into Worli Fort, the British watchtower that overlooks the Arabian Sea. There's even an opportunity to extend your stay at one of India's most relaxing beach resorts. Explore our India tours to learn more or get in touch with a helpful member of our team.
Our Grand Tour is also available as a private tour.