Kerala, located in the South of India, offers a serene and tranquil atmosphere compared to the bustling destinations of north India. With its lush green landscapes, tranquil backwaters, and rich cultural heritage, Kerala is a true paradise that welcomes visitors from across the world. We visit this peaceful region during our 14-day Splendours of Kerala tour, starting in the port city of Cochin and ending in the charming village of Kumarakom.
Whether you're looking to explore its rich history and culture or simply relax and unwind, there's something for everyone to enjoy in this region. In our Kerala travel guide, we'll take you through some of the best places to visit in Kerala during your tour of India, along with the top things to do in the region. Get ready to discover the beauty and charm of Coastal South West India.
Where is Kerala?
Kerala is a southern region of India, situated on the southwestern coast of the Indian peninsula. Bordered by the Arabian Sea to the west and the imposing Western Ghats to the east, Kerala is known for its famous backwaters, stunning landscapes and natural beauty.
Kerala is well connected to major destinations in India such as Mumbai, Delhi, and Goa, with flights from each city taking around 1-2 hours to reach the region. From the UK, flights to Kerala take around 12 hours.
What is Kerala Known For?
One of the main highlights of Kerala is its famous backwaters, a network of interconnected lagoons, lakes, rivers, and inlets that run parallel to the Arabian Sea along the Malabar coast of Kerala. The backwaters offer a tranquil and peaceful escape from the hustle and bustle of everyday life in India.
When travelling with Distant Journeys on our Splendours of Kerala Tour or our Grand Tour of India, one of the tour's many highlights is to explore these incredible backwaters with a leisurely overnight stay on a traditional thatch-roofed 'kettuvallam' houseboat.
With over 900 km (560 mi) of waterways, the backwaters form an impressive labyrinth system that attracts travellers from across the globe. At the heart of the backwaters are five impressively large lakes, linked by canals and 38 rivers that cover almost half of the region!
Kerala is also also known for its beautiful scenery, including its lush green tea and spice plantations, and stunning beaches. If you're touring Kerala with us, we'll visit a fascinating spice plantation that uncovers the history and magic of the Indian tea and spice industry.
This historical region is also renowned for its traditional Ayurvedic medicine, which is based on the belief that health and wellness depend on a delicate balance between the mind, body, and spirit. Many visitors to Kerala come to experience the rejuvenating benefits of Ayurvedic treatments – and to explore the state's many temples, palaces, and historical sites on offer.
When is the Best Time to Visit Kerala?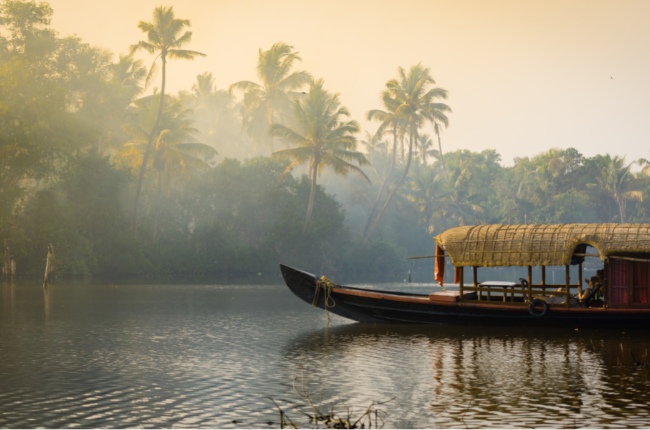 The state has a tropical climate with three main seasons: monsoon, winter, and summer. The monsoon season runs from June to September, with heavy rains and high humidity. The months of October to February are the winter season, with pleasant and cool weather welcoming tourists.
If you're looking to explore Kerala's backwaters and enjoy the great outdoors, the winter season is the most favourable time to visit. The weather is pleasant and perfect for sightseeing at this time of the year.
The Best Places to Visit in Kerala
Kerala is an alluring region that is brimming with beautiful cities, towns and villages to visit. There are also plenty of sights to explore and things to do in the region. Take a tranquil cruise along Kerala's backwaters, marvel at the region's many temples and shrines, or sit back and relax as you enjoy a rejuvenating Ayurvedic body massage.
One of the best ways to experience Kerala's beauty is to take a tour, such as our Splendours of Kerala or our Grand Tour of India, which include a wonderful mix of the best places and things to do in Kerala. These two tours will take you on a journey through the state's most iconic destinations, immersing you in the local culture and allowing you to experience the beauty of Kerala in all its glory.
Cochin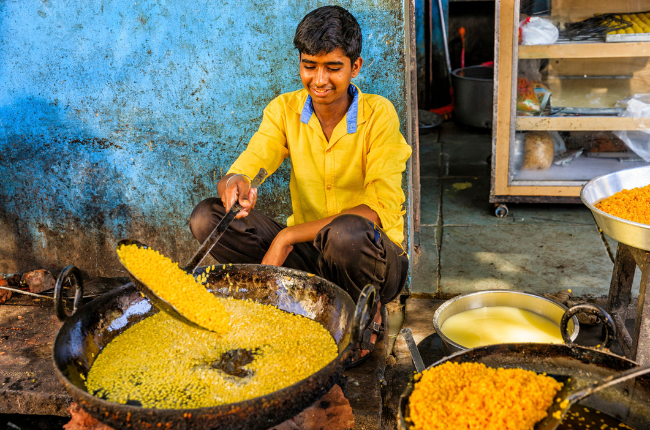 Cochin, also known as Kochi, is a beautiful city that's known for its rich history and cultural heritage, making it a popular destination for travellers visiting Kerala. One of the best things to see in Cochin is Mattancherry Palace, also known as the Dutch Palace. The palace was built by the Portuguese in the 16th century and offers a glimpse of Dutch and Kerala architecture. Another must-see area of Cochin is Fort Cochin, an ancient neighbourhood that has been standing for centuries. The town is a great place to explore the city's rich history.
Thekkady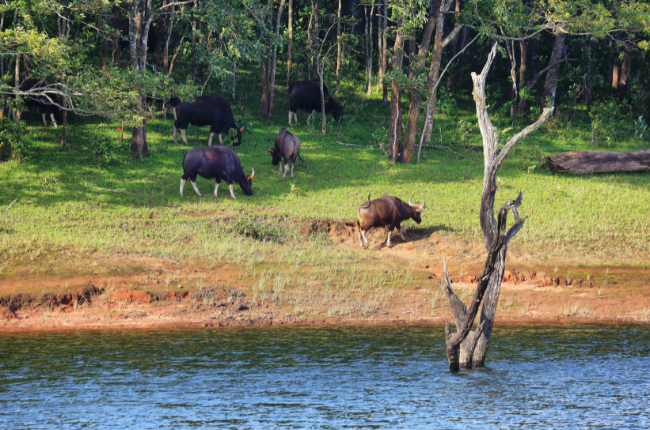 Thekkady is home to India's largest wildlife sanctuary, Periyar Wildlife Sanctuary, a protected area that cares for a wide variety of species including elephants, tigers, and leopards. We recommend a boat ride on the lake to spot the animals in their natural habitats.
Visiting a spice plantation in Thekkady is also a must, where visitors can learn about the cultivation and processing of spices such as pepper, cardamom, and cinnamon – and taste them!
Munnar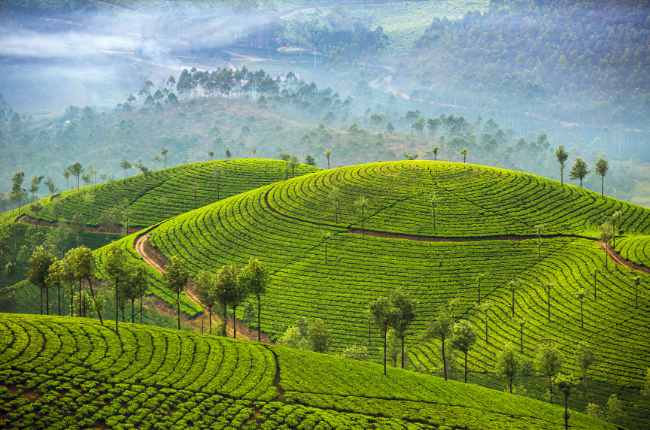 Munnar is a popular town and hill station located in the Idukki district of Kerala. The picturesque town is located in the Western Ghats mountain range and is surrounded by tea plantations and rolling hills.
Munnar is perhaps most famous for its tea plantations, tea factories, and the Tata Tea Museum, showcasing the history of tea cultivation and production in the region.
Alleppey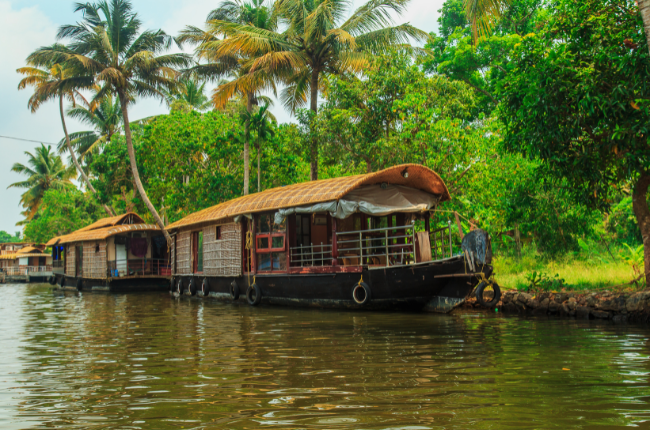 Alleppey, also known as Alappuzha, is one of the best places to explore Kerala's famous backwater canals and is famous for its houseboats and traditional boats. The city is also renowned for its boat races, beaches, marine products and coir industry, with Alappuzha beach boasting golden sands, fine seafood dining and an abundance of meditation and yoga experiences.
Kumarakom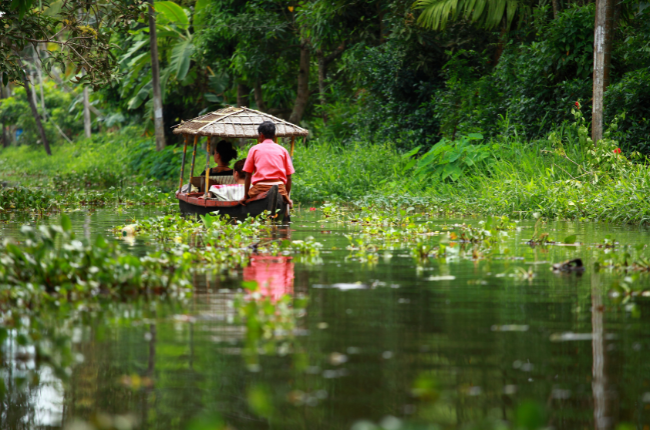 Kumarakom is also located on the banks of Lake Vembanad. Visitors can take a leisurely cruise on the backwaters in a traditional Kerala-style houseboat, known as Kettuvallam, and experience the serene beauty of the canals and the local village life.
Discover the land of mystery and diversity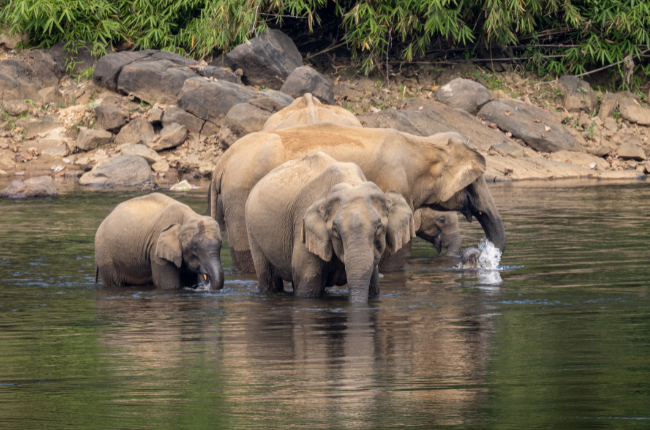 With its luscious landscapes, restful backwaters and its rich cultural heritage, it's easy to see why Kerala is popular with travellers visiting India. From the picturesque backwaters of Alleppey, the tea plantations in Munnar, and the Periyar Wildlife Sanctuary and Spice Plantations in Thekkady, there's something for everyone to enjoy on a trip to Kerala.
If the laid-back atmosphere of Kerala appeals to you, you may also wish to visit Goa, another beautiful destination in India renowned for its relaxing culture and golden, sandy beaches. Goa is also included in our solo tour; Temples, Tigers & Goa.
Are you ready to discover even more delightful destinations in India? Browse our India tours and plan your trip today.