The festive season has well and truly arrived, with several countries all over the world embracing the Christmas spirit. Traditionally, China is not a Christian country, but it is starting to adopt traditions from around the world and create its own Chinese Christmas traditions. We delve deeper into Christmas in China with plenty of top tips on how to enjoy China during the Christmas season.
Does China celebrate Christmas?
Christmas is not yet a phenomenon that has swept the whole of China, particularly in the more rural areas, where there is very little Western or Christian influence. In China's major cities however, such as Shanghai, Beijing and Guangzhou, Christmas has become a big annual event, but doesn't tend to feature the Christian element of Christmas at all. Christians however do make up 1% of the Chinese population, and they celebrate Christmas as the most important day of the year, with church services and choir performances. Christmas is also a big deal in Hong Kong, a former British territory, where it's a public holiday.
How does China celebrate Christmas?
With a large number of expats living in China's bigger cities, several Christmas traditions we know and love have been adopted, with China also creating some of its own. Here are some of the Christmas traditions you'll find in China.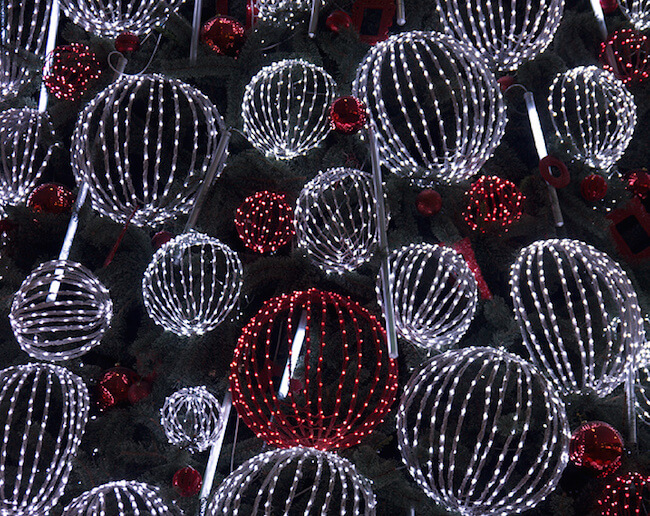 Image by Marie and Alistair Knock
Lights and Christmas trees galore
From the end of November, the shopping districts in the bigger cities come to life with enormous decorated Christmas trees, lights and even Chinese Christmas songs translated from English, especially in shopping malls and department stores, which are packed with Christmas items and supplies. In some shopping centres, you may even find Santa giving out gifts.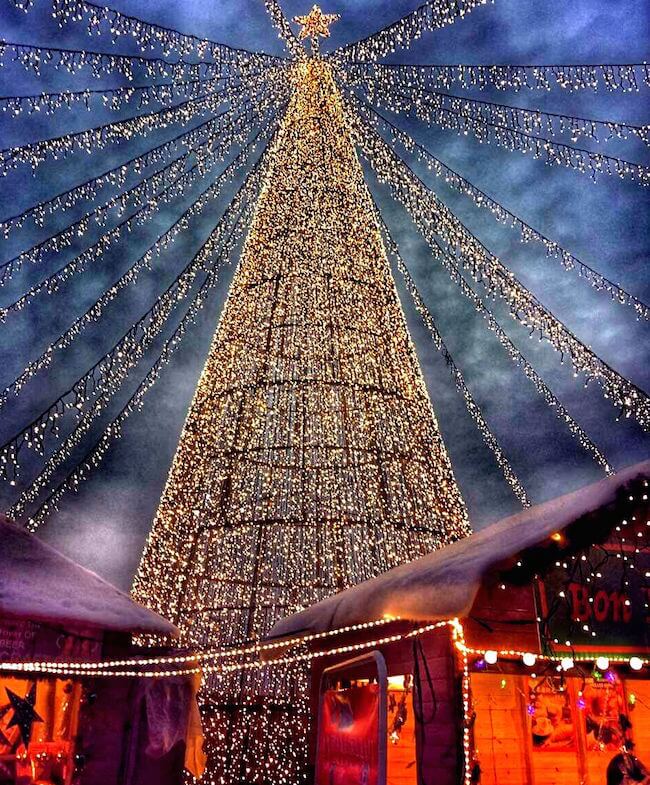 Image by xi zhou
Christmas markets
Visiting Christmas markets is becoming an increasingly popular tradition and this also rings true in China. In Shanghai, you can visit German-style Christmas markets, such as Paulaner's Christkindlmarkt and Jing'an Christkindlmarkt, and purchase Christmas trees, decorations, food and drink. For a Christmas shopping experience with a Chinese twist, try the Hutong Winter Fayre in Beijing, which offers the classic Christmas shopping in a traditional Chinese hutong.
The gift of apples
Gift giving at Christmas is a tradition typically reserved for expats in China, and any gifts children may receive from Santa at the mall tend to be opened on the same day. However, the tradition of giving apples on Christmas Eve is one that is growing in popularity. Pingguo is the Chinese translation for apple, which sounds like the word for peace in Mandarin. Christmas Eve is called Peaceful Evening in Chinese, and so apples have been linked to the occasion. At this time of year, the apples are sold with messages such as 'love' and 'peace' printed on the skins, ready to give to a loved one.
Christmas get-togethers
Although Christmas is a more commercial event in China, it's also seen as an occasion for friends, couples and relatives to get together. It's seen as a romantic occasion by some, as it gives people the opportunity to exchange tokens of love and go out on a date. People may get together at home, or perhaps head out to a bar, restaurant, karaoke box or even McDonald's.
In the main cities, upscale hotels and restaurants offer American-style Christmas dinner on Christmas Day, offering turkey with all the trimmings, apple pie and eggnog alongside other favourites. Christmas Eve gala parties are also becoming extremely popular, offering a feast of food alongside live entertainment and lucky draws.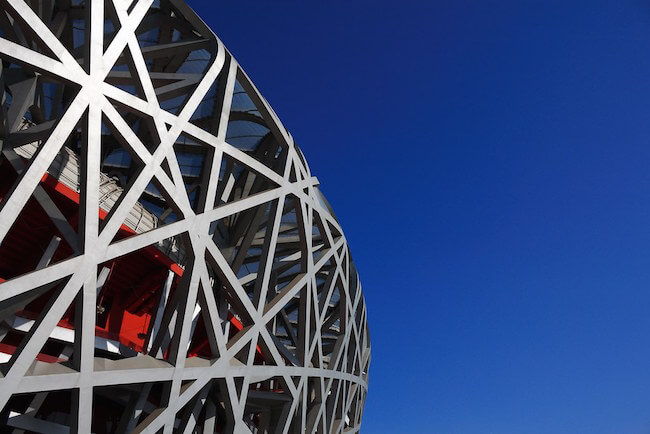 Image by Never House
Bird's Nest Ice and Snow Festival
Beijing's former Olympic stadium, the Bird's Nest, hosts the 3-month-long Ice and Snow Festival, which runs from mid-December to mid-February. It offers some perfect winter activities for Christmas-time, such as ice skating, figure skating performances, a snow maze and beautiful ice sculptures to marvel at.
Discover China at Christmas
Give yourself the gift of visiting the breath-taking country of China with our guided tours to China from the UK. Our tours include availability over the Christmas season, so you can see the light, colour and extravagance displayed in cities such as Beijing and Shanghai. It also falls during China's low season, making it a quieter time to explore some of the more popular destinations included in our tours, such as the Great Wall of China.
Planning on visiting China for the first time? Make sure you know these tips before visiting China – some of them might surprise you!
Featured image by Cathy Fongjoyo