Home to some of the world's most spectacular landscapes, New Zealand is steeped in natural beauty, and one of the more unusual ways to experience this is in its caves. There are a few caves in New Zealand that are truly magical and awe-inspiring when you walk around inside, and this is because the towering walls, stalagmites and stalactites are decorated with bioluminescent glow worms.
The glow worm caves of New Zealand are one of the country's up-and-coming natural attractions, so be sure to pay a visit before the really big crowds appear. Found across the North Island and South Island alike, there are a variety of glow caves across New Zealand to visit, so you're bound to find one you can explore wherever your holiday takes you.
Waitomo Caves
Set in the heart of North Island's Waikato region, the Waitomo Caves are the best-known and most accessible glow worm caves in New Zealand. It's one of the most romantic destinations in New Zealand thanks to its incredible scenery, and whether you'd like to walk, scramble or sail through the cave, there are a variety of Waitomo Caves tours on offer.
You can walk through Ruakuri Cave on New Zealand's longest guided cave walk or glide through the grotto by boat surrounded by thousands of tiny twinkling creatures with Discover Waitomo. For something a little more adventurous, you can see the unique limestone features of the caves close up with caving, abseiling and black water rafting experiences from Waitomo Adventures.
Te Anau Caves
Close to the shores of the scenic Lake Te Anau, the Te Anau Caves are a mere 12,000 years old: young by cave standards. These are perhaps the most popular caves on South Island, with tours offered by Real Journeys. The caves are still being carved out by the river today, and you can enjoy a serene boat ride through the scenic limestone, passing sculpted rocks, waterfalls and whirlpools. The real highlight however is the hidden grotto, a space completely dark, silent and peaceful, except for the incredible shimmer of the thousands of glow worms.
Lake McLaren
A beautiful spot to visit both by day or night, Lake McLaren is found near Tauranga in the Bay of Plenty. Waimarino Kayaking Tours offer an experience to remember both on the lake and inside the caves, starting with a delightful sunset supper on the lake shores before paddling your way towards the glow worms. Kayaking at night is an adventure in itself, but when you arrive at the lake and look up to the spectacular canyon carpeted in dazzling glow worms, it's a sight you'll never forget.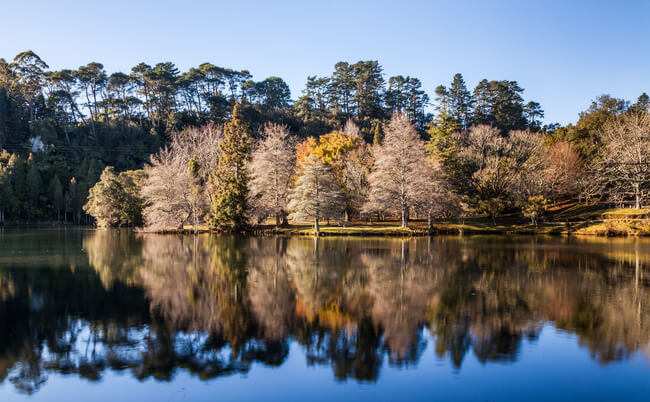 Kawiti Caves
Over in North Island's Bay of Islands, in the heart of the Waiomio Valley, you'll find the Kawiti Caves, a network of caves with spectacular rock formations. In the cave known as the Milky Way, you can look up to see thousands of glow worms replicating a starry night sky. During your Kawiti Caves tour, your Maori guide will also share with you the legends and stories of the caves, as well as everything you need to know about glow worms.
Te Ananui Caves
Within Paparoa National Park's lush rainforests over on the west coast of South Island lies another series of dazzling glow worm caves, the Te Ananui Caves. Guided by Underworld Adventures, you'll not only get to see a galaxy of glow worms, but also a stunning scene of calcite formations in the Hall of Refugees and a series of caverns and creeks. The more adventurous can also try caving and tubing tours through these completely unspoilt caves.
Waipu Caves
The Waipu Caves are well off the beaten track, with visitors having the navigate the gravel roads of Northland to get there. But they're the most unspoilt of the large glow worm caves, with no tours operated, and they're completely free to visit. You'll have to clamber over mud banks and wade through water, but the journey is well worth it to see the cave's three spectacular chambers. Inside the chambers you'll see clusters of luminous glow worms alongside boulders of limestone weathered into wonderful shapes.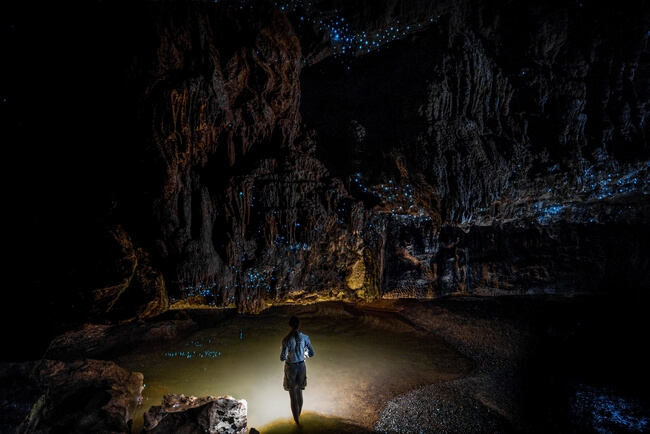 Discover New Zealand and its incredible caves
The spectacular caves of New Zealand and their glow worm chambers are just one of the reasons to visit this beautiful country – there are also beautiful mountain ranges, lakes, islands and so much more to discover.
Embark on an escorted tour of New Zealand to remember and take in the very best that both the North and South Island have to offer. Our escorted tours have carefully chosen itineraries taking in the very best of New Zealand, with our expert tour guides also on hand to ensure you get the most out of your once-in-a-lifetime visit.
Image by russellstreet via Flickr.