Wetlands are a crucial part of Australia's unique ecosystem. They protect the country's stunning shores from waves, reduce the impact of floods, absorb pollution and enhance water quality. Equally important, they provide a habitat for countless exotic animals and plants, supporting an incredible diversity of life that can be found nowhere else.
Australia has 66 wetlands of International importance, as classified by the Ramsar Convention on Wetlands, and they're must-see destinations for nature lovers or simply anyone who adores the great outdoors. Here are a few of the finest.
Corroboree Billabong
Wetland Cruises are the experts in their field, and our preferred partner for wetland exploration in Australia. The Corroboree Billabong is just over 60 miles from Darwin but a world away, offering stunning scenery and an incredible abundance of species. Situated on the edge of Mary River National Park, this wetland habitat provides a sustainable environment for birds, fish and crocodiles amidst a spectacular landscape that has not changed for thousands of years.
On your unforgettable wetlands tour, you will depart from Darwin at 9am and will spend two-and-a-half hours exploring this incredible setting, getting up close with saltwater crocodiles and an astonishing array of rare birds, including egrets, kites, sea eagles, spoonbills, terns, cormorants, kingfishers and rainbow bee-eaters. It's an experience you will never forget.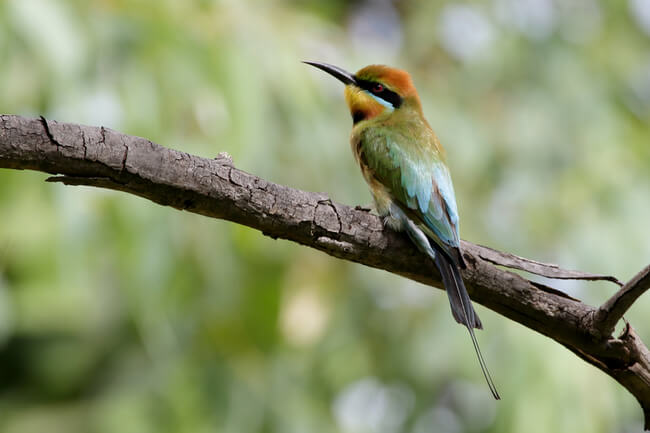 Paroo River Wetlands
Spanning an incredible 341,760 acres – that's 534 square miles – the Paroo River Wetlands in the Murray-Darling basin in western New South Wales takes in overflow lakes, tree-lined creeks and waterholes, lignum and canegrass swamps and artesian mound springs. The region is home to a number of endangered plants, including the salt pipewort, considered the rarest plant in New South Wales.
Little Llangothlin Nature Reserve
In contrast, the wonderfully named Little Llangothlin Nature Reserve, also in New South Wales, is a mere 640 acres. However, what it lacks in size it makes up for in character, with remarkably diverse vegetation including sedgeland, herbland and grassy woodland plus exotic trees including New England peppermints and snowgums, not to mention the very rare (and also wonderfully named) hairy anchor plant.
Kakadu National Park
Kakadu National Park in the Northern Territory, just over 100 miles south-east of Darwin, is one of the great treasures of Australia, taking in an incredible 7,646 square miles – about the same size as Slovenia. The area, which encompasses two world-famous wetlands, has been home to Aboriginal people for more than 40,000 years, resulting in the Park being awarded UNESCO World Heritage status. You can see everything from water buffalo to frogs here – though the real star will be the incredible landscape itself.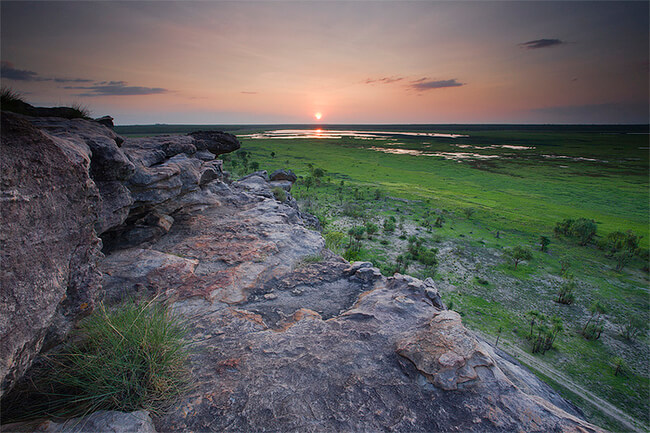 Great Sandy Strait
Stretching from Tin Can Bay to Hervey Bay, the Great Sandy Strait in Queensland separates the mainland from the World Heritage-listed Fraser Island (an unmissable destination in itself). This delightful marine environment has been classified as an Important Bird Area as it supports some 120,000 non-breeding waders, including one in 100 of the world's bar-tailed godwits, eastern curlews, lesser sand plovers, pied oystercatchers and red-necked stints.
Coongie Lakes
The largest wetland system in South Australia occupies an amazing 8,410 square miles – more than half the size of Switzerland. Huge numbers of water birds, including ducks, cormorants, pelicans, ibises, spoonbills, herons and waders flock here, whilst local mammals include red kangaroos, dingos and rakali, plus a wide array of reptiles.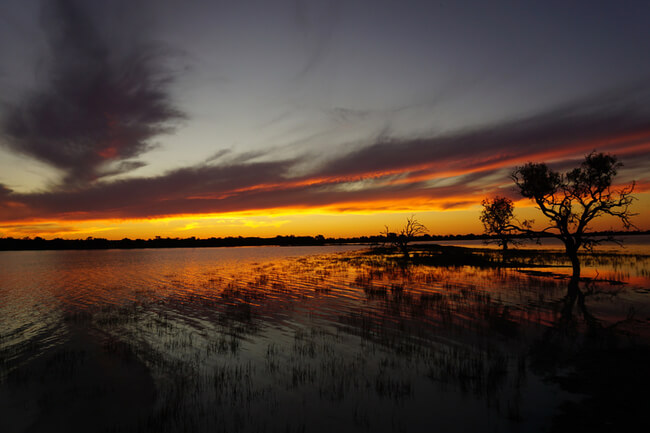 Port Phillip Bay and Bellarine Peninsula
The Port Phillip Bay (Western Shoreline) and Bellarine Peninsula Ramsar Site sports 579 species of non-marine plants, of which 247 are non-indigenous. 22 of these species are considered threatened in Victoria and three on a nationwide basis, including the extremely rare spiny rice-flower. However, it achieved Ramsar status due to its international importance for 14 species of waders, including the double-banded plover, banded stilt, red-necked avocet, pied oystercatcher, curlew sandpiper and common greenshank, as well as the critically endangered orange-bellied parrot – one of the most spectacular birds you could hope to see.
The wetlands are just one of countless attractions you need to experience when you discover the very best of Australia. Let us bring you this unique continent's finest sights during an unforgettable tour Down Under.
Images by NomadicPics, James Niland, Jon Clark and Graham Winterflood via Flickr.