Around an hour outside of Melbourne, you'll find one of the finest wine regions in all of Australia: the Yarra Valley. The Yarra Valley wineries are highly-renowned and known as some of the best in the world, particularly well-known for their Chardonnay, Pinot Noir and sparkling wines. If your dream day involves tasting a selection of fine wines and relaxing with a glass in hand overlooking sunny vineyards, look no further than the best wineries in the Yarra Valley.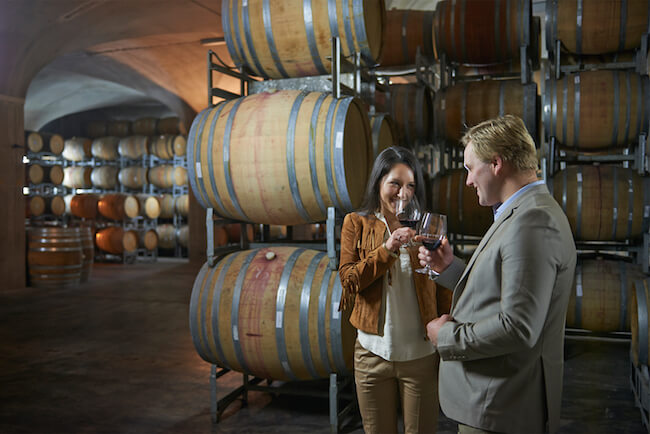 Yering Station
First established way back in 1838, Yering Station was the first vineyard to be planted in all of Victoria, setting the precedent for the hundreds of Yarra Valley vineyards that have cropped up since. Family-owned and run today by the Rathbone family, you'll find Yarra Valley classics here such as Chardonnay, Pinot Noir and Shiraz Viognier. Yering Station is immensely proud of its heritage and this can be seen in the site's heritage-listed barn, original avenue of elm trees and its early winery building, dating from 1856, which today acts as the cellar door and wine store.
Dominique Portet
Ninth-generation winemaker Dominique Portet established this renowned winery in the Yarra Valley in 2000. Hailing from Bordeaux, he has paired his extensive knowledge of French wines with the international experience of his son, Ben, who also runs the winery. With a strong offering of Cabernet Sauvignon, Dominique Portet's other mainstay is its delightful rosé, particularly the Provence-style Fontaine Rosé. Its cellar door is open daily, and its charming bistro serves up French family classics. Enjoy a delightful wine tasting here, accompanied by cheese and crackers, as part of our Puffing Billy Yarra Valley wineries tour, which also takes in two other leading wineries in the area.
Coombe Farm
Another of the best vineyards in the Yarra Valley is Coombe Farm, an expansive 120 acres set on the Melba Estate. Each wine produced here is handcrafted in small volumes to ensure quality and the use of only the finest grapes the vineyard has to offer. Their Estate range of wines are based on 100 years of tradition, while the Tribute Series has the barrels hand-picked just prior to blending for a unique and quality bottle every time. Enjoy a tasting of the full range of the wines at the cellar door, and perhaps even have a game of croquet too out on the lawn.
Helen's Hill
The closest Yarra Valley winery to Melbourne, Helen's Hill offers both a Helen's Hill range of wines, including Arneis, Chardonnay and more, and their Ingram Road collection, spanning classics such as Pinot Grigio and Merlot. A family business through and through, cellar door tastings are hosted by the family members too, offering in-depth information on their entire winemaking process. You can also enjoy some wine tasting alongside a sharing plate or a plate of gourmet sliders at the lovely Wine Deck, overlooking the bushland, lawn and gardens.
Rob Dolan
Rob Dolan Wines offers one of the best Yarra Valley wine tours around, offering a fun, friendly and enthusiastic approach to their service. Set in the original farmhouse, the cellar door experience is expertly led by the knowledgeable staff, who'll be able to tell you all about their wonderful White Label, Black Label and True Colours ranges. You're also more than welcome to enjoy your wine out on the deck or in the gardens, accompanied with a platter that can include local cheese, olives, relishes and more.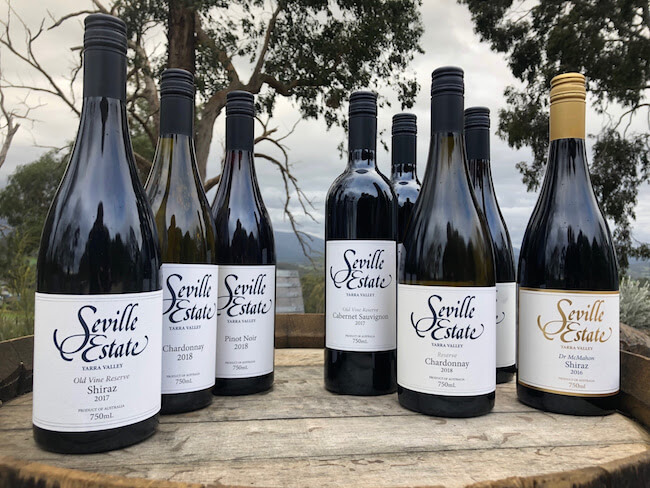 Seville Estate
Awarded James Halliday's Winery of the Year in 2019, it's safe to say that the Seville Estate is truly world-class. Its most sought-after wine is perhaps its Shiraz, fed by fertile red and grey volcanic soils, although its barrel-fermented Chardonnay and Riesling are also highly acclaimed. Its cellar door has also won Australia's Cellar Door 2019 from Australian Gourmet Traveller, so it's well worth paying a visit: enjoy complementary wine tastings with unrivalled views over the vineyards and the upper Yarra Valley.
Helen & Joey Estate
Offering everything from everyday favourites to prestigious premium wines, there are nine excellent wine varieties to choose from at the Helen & Joey Estate, including Pinot Gris, Sauvignon Blanc, Merlot and Shiraz, with new varieties still being planted. Perched atop a hill overlooking the Gruyere area of the Yarra Valley, the Helen & Joey Estate has a personal touch to its service, with a visit to their cellar door leaving you feeling like you're a close friend.
Visit Australia's finest vineyards
If you're looking to get to the heart of Australia's wines and their production, look no further than our unforgettable escorted Australia tours. They not only take in Australia's biggest highlights, such as Sydney, Uluru and the Great Barrier Reef, but also the option to explore the country's finest wine regions, including the Yarra Valley alongside the Adelaide Hills and the Swan Valley.
Featured image: Yering Station