The famous Table Mountain is one of South Africa's finest attractions; in fact it's one of the top 10 things to do in Cape Town. So if you'll be embarking on a spectacular tour of South Africa in the coming months, we thought we'd help you make the most of your trip by recommending five of our favourite things to do during a visit to Table Mountain National Park:
Take a Cable Car Trip
The Table Mountain aerial cableway takes you straight to the top of Table Mountain where you can explore the wonderful summit. However, as you glide along, 1089 meters above Cape Town, you'll soon realise that witnessing the stunning aerial views is an experience itself. So even if you plan to hike the mountain, it's worth considering the cable car trip too. Plus, the cable cars are the perfect choice for those unable to hike, or require wheelchair access.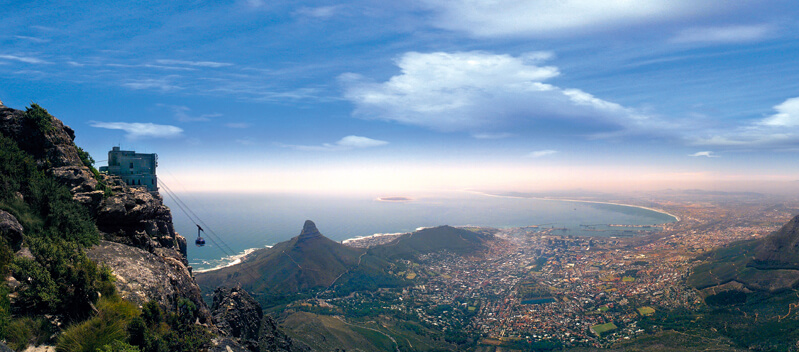 Experience an Audio Tour
Sometimes sightseeing can mean so much more with a little extra insight. Which is why we highly recommend you make the most of the free audio tours, where you can unearth the incredible stories and legends of Table Mountain whilst standing in that exact spot. There are even two Table Mountain audio tours you can download onto your smart phone beforehand, or if you forget, there's free Wi-Fi so you can easily download them once you're there. You can find all the information you need to do so here.
Plan a Hike
If you're planning on hiking Table Mountain you'll be pleased to know that there are options and routes to suit everyone. While some routes are just for walking, you will still be able to enjoy the unusual wildlife, with over 1460 different types of plants. For those seeking a more challenging hike, which may require scrambling or rope work, there are higher grades of walks available. Further details on the different types of Table Mountain hikes can be found here.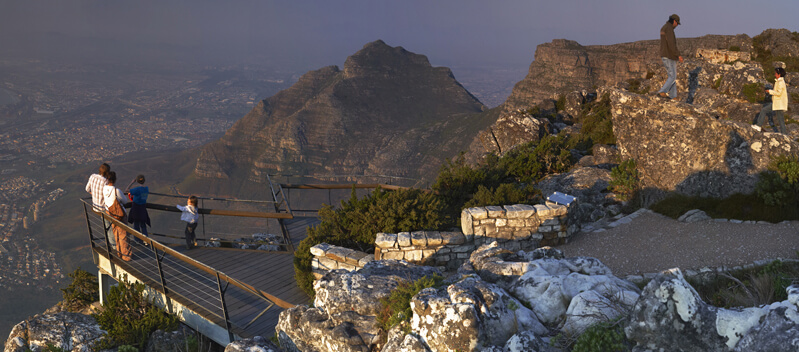 Watch the Sunset
If you're spending the day at Table Mountain make sure you stick around for the sunset, because trust us – it will be worth it. Watching the South African sunset is the ultimate view from Table Mountain, and will be the perfect end to an amazing day.
Abseil Back Down
Not many people can say they have abseiled down Table Mountain, so if you're feeling brave why not give it a go? For thrill seekers or even those looking to push their own boundaries, it would be a fantastic achievement to say you have abseiled down this amazing landmark and it will provide you with unique and wonderful memories of your South African trip.
A visit to Table Mountain in South Africa is the highlight of many travelers' trips. So if you would like to pre-book your Table Mountain tickets you can do this online before you venture out onto your spectacular South African tour. It's worth knowing that Distant Journeys includes a cable car ticket to the top of Table Mountain in the price of their holidays.
Save
Save