If you enjoy an adrenaline rush then there is no doubt that a trip to New Zealand will have plenty to offer you. With a range of extreme adventures in New Zealand on land, water and even up in the skies, you surely won't be disappointed. So, depending on how brave you're feeling, why not take a peak at our top 5 adventure activities in New Zealand, and make sure to try them out when heading on a 23 day escorted tour of this magnificent country.
Bungee Jumping
One of the most adventurous thing to do in New Zealand has to be the fear-inducing bungee jump. New Zealand's highest bungee at 134 metres hangs over the Nevis River allowing you to take in the magnificent scenery as you make the giant leap. If it's your first jump, why not take the 40 metre jump from Auckland Bridge. You can enjoy the beautiful views of Waitemata Harbour and if you fancy it, you can even opt for a dip in the ocean when you jump.
Caving
If a sky-high activity isn't for you then you can always discover New Zealand beneath the surface by exploring the fascinating caving systems. If you want a caving adventure in the North Island then Waitomo caves are the place to go. You can choose how you want to explore the caves with tours combining abseiling, waterfall climbing, rock climbing and even blackwater rafting where you grab a tube and float down an underground river. After the adrenaline-inducing activity, make sure to look up and catch a glimpse of the enchanting glowworms filling the rock sky.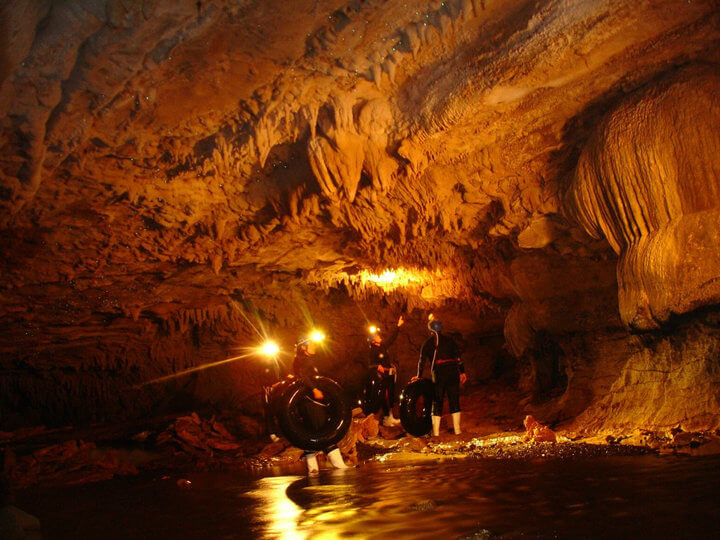 Jet Boating
A trip to New Zealand wouldn't be complete without a ride down one of the many magnificent rivers, so why not try it at high speed on a jet boat. This thrilling activity gives you an opportunity to see the breath-taking views of rivers such as the Shotover, Dart and Waikato. You can also take a jet boat ride down river to the stunning Lake Manapouri in the Fiordland National Park, a spot which should be on everyone's list for a trip to South Island.
Zorbing
Zorbing is an activity you might be less familiar with however has quickly become one of the top activities in New Zealand. If rolling down a hill in a huge inflatable ball takes your fancy then you need to head to Rotorua in the North Island. With Zorb New Zealand you can tumble alone or with friends, add water to your ride and choose between 8 different tracks. Whatever your pick, this is guaranteed to be a thrilling and dizzying experience.
Ziplining
A great way to experience the stunning scenery of New Zealand is to fly through the sky on a zipline. With both the North and South Islands hosting many ziplining locations you can choose where you'd like to take flight. If you want to make sure you don't miss an inch of the stunning landscape of New Zealand, we'd also recommend one of the breath-taking scenic flights you can take in both the North and South Island.
Whether you will be ziplining through a canopy, leaping from a bridge or speeding down river, there is no-doubt that the views you will experience along the way will be truly spectacular. If these extreme adventures aren't quite your cup of tea, luckily there are plenty of other fantastic reasons to visit New Zealand on your next trip.
To see the full range of tours around New Zealand click here.
Images by Madeleine Deaton and einalem via Flickr.