At the very heart of Australia, Alice Springs is the third-largest town in the Northern Territory. The traditional home of the native Arrernte Aboriginals, it is today a thriving settlement of 24,000 people, straddling the (usually dry) Todd River and set amid the Red Centre of Australia, with its endless unspoiled and unearthly landscapes.
Here are three delightful and unusual ways to see this unique landscape.
By camel
Camel tours in Australia? We were surprised too. But Pyndan Camel Tracks offer this unique and unforgettable experience, with tours available during the day or – most memorably of all – at sunset. Camels are known for their quixotic personalities, so you'll be pleased to know that all their camels are fully trained and very friendly, ensuring a comfortable and relaxing ride aboard your desert steed.
Every camel has its own name, ranging from the cute (Good Boy and Cookie) to the more mysterious (Saleh Mohamed and Wati Pulka). We're sure that you'll enjoy meeting and petting them as much as you relish savouring incredible views of the breathtaking Australian Outback. However, camels aren't the only animals you'll meet during your memorable tour – Pat is a 77-year-old sulphur crested cockatoo who occupies Pyndan Camel Tracks' offices, being well known for his catchphrases "They're coming back!" and "Come back, mate!".
By bicycle
Never thought of cycling the Outback? Here's your chance. Great Southern Rail will take you to Alice Springs in style, before you take in a two-mile bike ride on sealed paths alongside Todd River before heading into the National Park. Your first stop will be at the Alice Springs Telegraph Station, where you'll enjoy an artisan coffee, home-baked cakes and a fascinating overview of the town's history. Your guide will then take you to Yubu Napa Art Gallery, where you can view remarkable ancient and contemporary indigenous artwork before continuing your relaxing ride.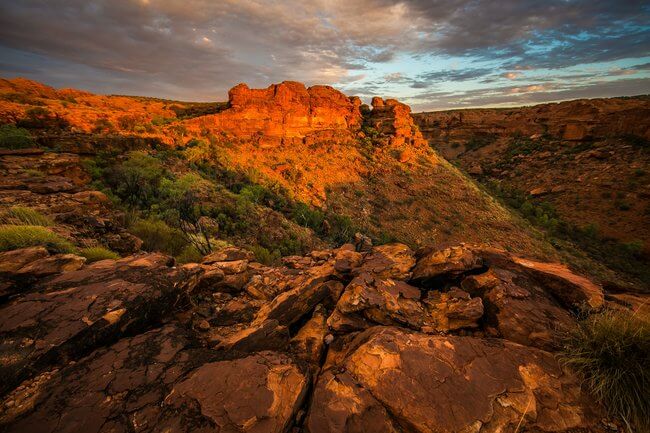 By helicopter
If you prefer to take to the air (or combine all three tours for the ultimate Alice Springs experience), Alice Springs Helicopters will help you soar into the skies and enjoy a bird's eye view of these incredible parched landscapes. Your flight can last anywhere from half-an-hour to a full day – given the vast expanse of the Outback, it's not as though you'll run out of new territory to explore! Meanwhile, the real daredevils among you can request a "doors off" experience, leaving nothing between you and the luminescent blue Antipodean skies.
Alice Springs is just one of the incredible destinations to visit whilst you're enjoying the top experiences in the Ayers Rock area. Distant Journeys are the experts in travel Down Under, and we'll bring you the very best Australia has to offer.
Images by Philippe Wuyts via Unsplash and Corey Leopold via Flickr.