A trip to Australia isn't complete without a visit to Uluru and its surrounding area. This incredible location gives you the ultimate outback experience with its unique wildlife and red rock landscapes creating a mysterious and intriguing backdrop. Ayers Rock is brimming with authentic attractions, allowing visitors to really immerse themselves in the beauty of the Australian outback, and we have selected eight of our favourites that we think you won't want to miss if you visit Uluru and its surrounding sights.
Ayers Rock Flight
If you're looking for things to do at Ayers Rock, you really must experience the unbelievable views from way up high in the sky. You can take a tour either by plane or helicopter to give you a bird's eye view of the spectacular landscape below. Or for those adrenaline junkies seeking that extra thrill, you can even arrange a skydive that will position you to land over Ayers Rock.
Field of Light Tour
The field of light tour in Uluru is an amazing art instillation at Ayers Rock designed by Bruce Munro. The artwork consists of over 50,000 lit stems with a frosted-glass sphere that represents the "bloom", and is quite a magical sight at night. This instillation will be displayed until 31st March 2018, so make sure you catch it on your trip while there's still time.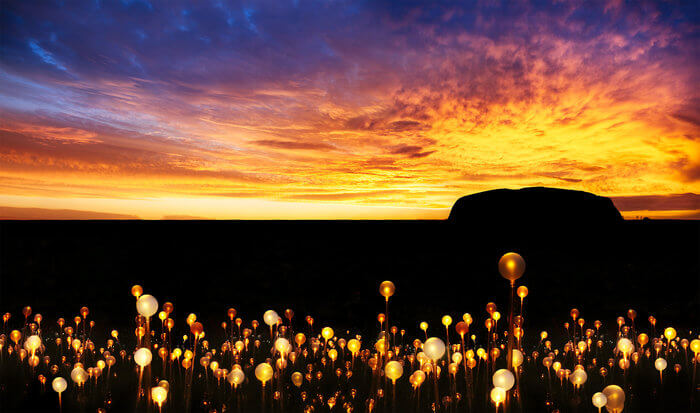 Camel Ride
There are many tours of Uluru on offer, but why not do it in style and explore the land on the back of a camel? It is an unusual but fun way to fit in all of the sights of Kata Tjuta National Park and you can even decide what time of day to go, with four tours to choose from: a Sunrise Tour, Express Morning Tour, Afternoon Tour and Sunset Tour.
Kings Canyon
Kings Canyon's magnificent gorge is around 300 meters high and is the idyllic spot to take some stunning photos of this natural landmark. Many of its visitors make the most of the views and walk the whole 6km rim of the gorge, which normally takes around 3 hours, though there's also a shorter 2km route at the base of the Canyon.
West MacDonnell Ranges
One of the best things to do in Uluru is visit the West MacDonnell Ranges. In this area, you can see a collection of the outback's most remarkable landscapes with grand gorges, dry riverbeds, creeks and waterholes teeming with wildlife roaming free.
Uluru Sunset
One of our favorite things to do at Ayers Rock is sit back, relax and watch the sunset. So, when you're planning your Uluru activities, make sure you don't miss watching the sunset amidst the remarkable red rock landscape. If you want to leave finding the perfect place to watch the sunset to the professionals, there are Ayers Rock tours that will ensure you reach the ideal point in time to see the show, so always check with your guide on an evening tour to make sure you don't miss it.
Alice Springs
Alice Springs is a quaint town with a lot to offer, making it a great place to visit in Uluru. You can take a tour that uncovers the town's rich history and learn how it has been influenced by both the Europeans and Aboriginals. Or pay a visit to one of its museums or art galleries where you can learn more about its traditions, culture and history, and discover stunning indigenous art.
Overnight at Uluru
To truly appreciate Uluru in all its wonder, you should really consider an overnight stay close to the red rock. Its colour changes throughout the day, which is a spectacular sight and whilst the sunset is always raved about, the sunrise is as equally stunning.
With so many incredible ways to discover the best of the Australian outback, you won't ever be stuck wondering what to do in Uluru. While these are the eight experiences we recommend at Ayers Rock, there's still plenty more to explore.
Save
Save
Save
Save
Save