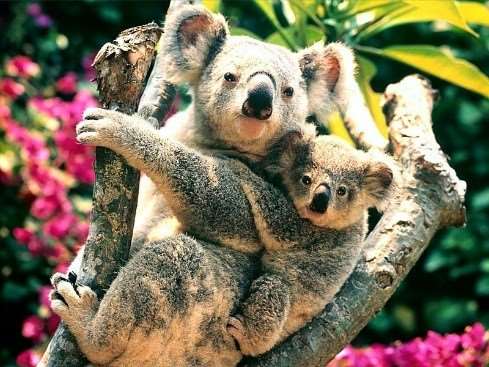 Ten great facts about cuddly koalas

Ten great facts about cuddly koalas
Native to Eastern Australia, cuddly koalas are just one of the great creatures you can meet on our unforgettable group tours of Australia. Here are just 10 fascinating facts that make koalas such interesting animals:
Koalas are mostly nocturnal, meaning that they sleep during the day and are awake for part of the night, sleeping for up to 18-20 hours a day.
There is an urban myth that koalas 'get drunk' on gumleaves, however this is not true. They in fact spend a lot of time sleeping in order to conserve their energy to digest their toxic, fibrous and low-nutrition diet.
Koalas found in the southern parts of Australia have thicker fur and are larger than their northern counterparts, in order to keep them warm in the colder southern winters.
A koala's home is made up of several trees, known as home trees, with the area covered by these trees making a home range. These can overlap with those of other koalas, though koalas don't visit other koalas' home trees unless they are breeding.
In order to mark his territory, a mature male koala rubs a dark sticky substance onto his trees, which is exuded from a dark scent gland, found in the middle of his white chest.
Young female koalas normally give birth to one Joey a year, though older female koalas may only produce offspring every two or three years.
Joeys are only around 2cm long, blind and furless when they are born, and their ears are also not yet developed. It relies on its already well developed sense of smell and touch, strong forelimbs and claws and sense of direction in order to find its way to its mother's pouch. It then attaches itself to one of the teats in the pouch, which then swells in its mouth in order to prevent it becoming dislodged as its only source of food.
An adult koala can eat anywhere between half a kilo and a kilo of leaves every night, depending on its size, sex and the type of leaves it eats.
As they get all the moisture they need from the gumleaves they eat, koalas rarely need to drink water – the only exception is in times of drought, when the leaves may not contain the moisture they need.
Koalas communicate with each other through a range of noises, the most startling being a belch-like 'bellow' and a loud snore-like sound.
Image: Wikimedia Commons, available under Creative Commons