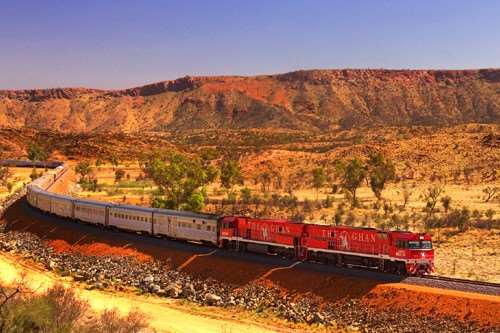 10 things you didn't know about The Ghan

10 things you didn't know about The Ghan
The Ghan is an incredibly iconic train that travels all over Australia in an all-inclusive boarded trip. The sights from the windows are incredibly ever changing which can be viewed from the comfortable cabins are truly remarkable. Find out a little more about this popular journey in these 10 facts about The Ghan:
1. It was one of the biggest engineering projects throughout history, costing over £500,000 million.
2. The Ghan was named in honour of the Afghan men that, before the train was built, would transport goods to the outback Australian communities.
3. The train used to be famous for being late, once running three months late due to flooding on its journey from Adelaide to Alice Springs – 'the timetable was matter more of hope than fact'.
4. It was once possible to board The Ghan in one season and leave in another due to the extensity of the route
5. In 1949, the top speed allowed was 32 kilometres per hour, it was thought a danger to travel at speeds any faster, luckily today that speed has substantially increased to 115 kilometres per hour.
6. The addition of Darwin was only completed in 2004, joining the north and south and enhancing the already world famous tour and more than half a million people have travelled the journey since the new leg opened ten years ago.
7. The train was used in World War II to transport troops, and still today they pay tribute to the veterans on a special trip between Adelaide and Darwin.
8. The length of a single train is 471 metres or 710 metres for a double, this is not even including the locomotive!
9. Over 60,000 passengers are transported on the fantastic journeys on board The Ghan every year.
10. It journeys began from Adeliade to Alice Springs in 1929 meaning that 2009 was The Ghan's 80th anniversary!
Embrace the opportunity to board this world-class locomotive and experience Australia through the eyes of the train on our Australia tour holidays!
Images: Simon Pielow under Creative Commons