If you're looking to explore the country like you've never seen it before, then an Australian train journey is perfect for you. From the Great Southern Train Journey to The Ghan, there are a number of rail tours in Australia that will provide you with an unforgettable experience.
But what exactly makes some of the best train trips in Australia so memorable? From the local food and wines to the exciting excursions – these are some of the top reasons to add an Australian train tour to the very top of your bucket list.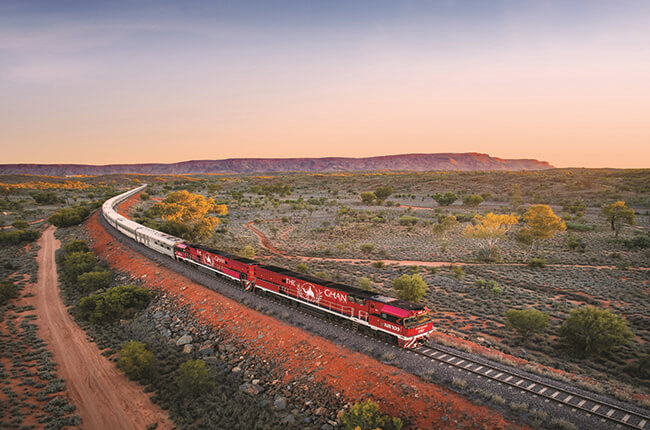 1. It's a Unique Way to Explore Australia
An Australian rail holiday is a truly unique way to explore the country. Not only will you see some incredible sights that you'd miss out on if you flew from place to place, but the entire train experience will provide you with some unforgettable memories.
For one, the staff on these train journeys will go out of their way to ensure you have a delightful time. Friendly and warm, nothing is too much trouble for them, so you can sit back, relax and enjoy the experience. Additionally, with no stressful flight check-ins, delays or last-minute cancellations, opting for an Australian train journey over a hectic flight can make your time in Australia so much more relaxing and enjoyable.
2. It's a Relaxing Way to Travel
Flying can be a stressful experience. Not only do you risk lost baggage and delayed flights, but rushing round an airport is hardly the most relaxing experience. However, when travelling on an Australian luxury train tour, you can unwind in true style – safe in the knowledge that your luggage is right there with you!  Additionally, your cabin will make you feel right at home in no time. Cosy and comfortable, your room is the perfect place to relax and unwind after a day of adventure. Each room comes with the following amenities:
En suite with toilet, wash basin and shower
A radio with journey commentary channels
A comfortable seating area which folds down into a bed
Complimentary toiletries
So whether you just want to relax in your own private oasis, or want to avoid the stress of the airport – an Australian train tour might just be perfect for you.

3. You Get to Experience More of Australia
One of the best things about train tours across Australia is that you can take in some of the best sights the country has to offer along the way.
The Great Southern Train Journey departs from Adelaide, which is in South Australia and travels through Victoria, New South Wales and terminates in Brisbane, Queensland. Whilst on your journey, you can expect to stop at the following destinations:
Grampians National Park (Victoria)
Canberra
Coffs Harbour (New South Wales)
One of the most popular excursions on the trip is the Grampians National Park, which is part of the Gariwerd Aboriginal cultural landscape. The nature reserve is renowned for its breathtaking sandstone mountains, cascading waterfalls and unmissable wildlife. As there's no way to access Grampians by plane, those who choose to fly may miss out on this iconic National Park.
Whilst in the country's capital, Canberra, you can expect to see some iconic sights, such as the National War Memorial, National Gallery of Australia and Parliament House. During this excursion, lunch will be served in the Great Hall in Parliament House, offering a truly unique culinary experience that you'll never forget.
When you reach Coffs Harbour, you will be greeted by wide stretches of sandy beaches and crashing waves featuring talented surfers. The perfect destination for nature lovers, the lively Coffs Harbour has something for everyone – whether you choose to take part in some water sports and a coastal walk, or sample delicious local food and stroll round the independent shops.

4. It's a Great Way to Meet New People
Whether you're travelling alone, as a couple, or in a group, rail tours provide the perfect opportunity to get to know some new people from all over the world. Not only is the train extremely sociable, with the option to relax in the onboard Outback Explorer Lounge with the other guests, but the excursions offer an additional way to meet likeminded people.
5. You can Immerse Yourself into Australian Culture
If you want to gain a true insight into Australian culture, there's no better place than on a rail tour. Not only will you visit some of the most fantastic sights the country has to offer, but you'll also get the chance to meet locals, from the staff on board, to the experts on the excursions.
Additionally, you'll be provided with ample opportunity to sample some local dishes, such as saltwater barramundi or grilled kangaroo. You'll also be able to sip on some of Australia's most outstanding wines, straight from the regions you'll be passing through on your journey.
So, if you wanted to experience Australia in its very best light, a rail tour is the perfect choice.
A rail holiday in Australia will provide you with countless memories that you'll cherish forever. From the incredible scenery and wildlife to the delicious foods and local culture – it's something we believe everyone should experience in their lifetime. Book your place on the Great Southern Train Journey to embark on an adventure you'll never forget.