Cairns is one of Australia's most popular tourist destinations and a gateway to the world famous Great Barrier Reef. Surrounded by lush rainforest and tropical waters you will discover a vibrant and varied city, making it well worth a visit as part of your package holiday to Australia. If you are wondering what to visit in Cairns, you will certainly be spoiled for choice.
If you are visiting Cairns then a trip to the Great Barrier Reef is almost certainly on the cards. The reef, a world heritage site, stretches out over 2000 kilometres along the Queensland coastline, making it one of the world's greatest natural wonders. This sprawling eco-system of corals, with its vivid colours and huge variety of fish and other marine life, allows you the opportunity to encounter some truly magical and unique sights.
There are numerous ways in which you can visit and explore the reef but whether its looking through a glass-bottomed boat, relaxing on the deck of a large pontoon, flying high and looking down from a plane, or getting up close and wet whilst snorkelling, you will undoubtedly have an experience like no other. Visiting the Reef is certainly one of the top things to do in Cairns.
Perhaps surprisingly, what with Cairns being on the coast, beaches are few and far between and during the summer season, where waters can turn into mudflats. Not ideal for a paddle or swim when trying to cool off. Fortunately, there are some attractive alternatives such as the exquisite man-made lagoon, one of our favourite things to do in Cairns.
With its clear waters, picnic benches, beach views and lifeguards, its no wonder both locals and tourists enjoy coming here, yet despite its popularity, it rarely has the feeling of being overcrowded. There is plenty of tree shade and grassy areas adding to the feeling of open space. The lagoon is free to use and you will often find outdoor fitness classes taking place in the vicinity, along with fitness equipment dotted about for you to use at your leisure. During the evening it's all beautifully lit-up and there are plenty of cafes, restaurants and bars close by.
Beyond the city limits lies the lush rainforest village of Kurunda. Here there are a variety of different activities on offer, ranging from traditional arts and crafts to wildlife parks and colourful markets. However, it is most famous for the Kurunda Scenic Railway and the gondola SkyRail ride.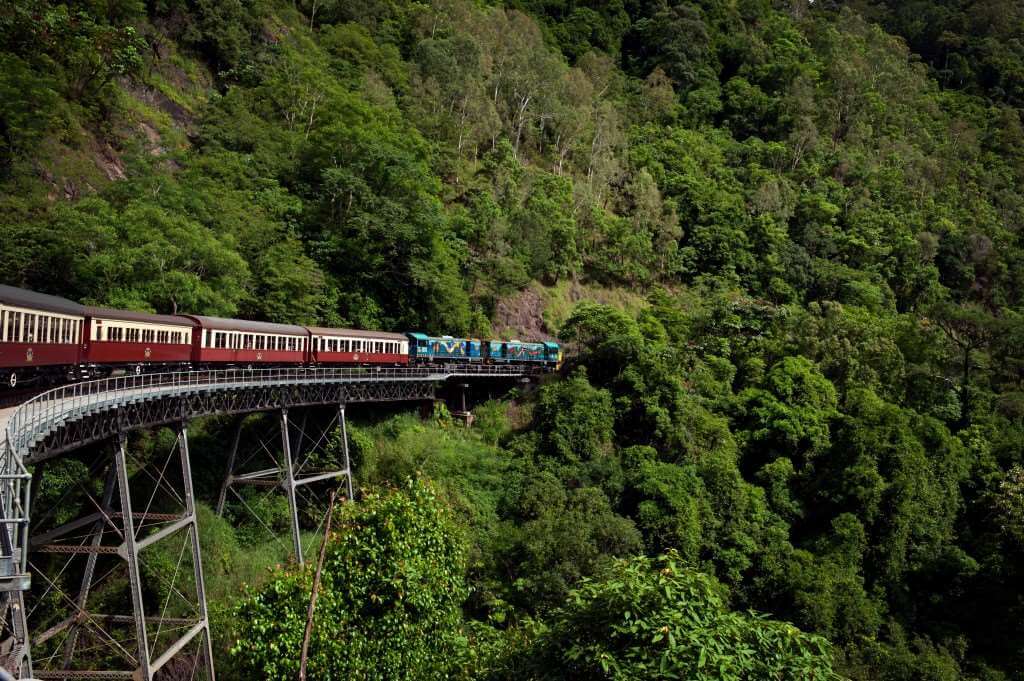 The rail journey takes you on a 90 minute ride through tropical scenery, passing deep gorges, waterfalls and mountains. You can choose to travel in First Class or in a private carriage, although all carriages provide you with comfy seats and fantastic views. Enjoy a running commentary explaining the history of the railway and of how the tracks and tunnels have been carved through the rainforest for visitors to enjoy today.
Enjoy the railway journey up to Kurunda and then SkyRail back down! The SkyRail takes you on a 4.5 mile journey in a cable car high above the rainforest giving you a birds eye view of the tropical foliage below.
Next door to the SkyRail is Tjapukai, the Aboriginal culture experience and show where you can learn more about Australia's indigenous people, culture and history. You can experience traditional foods, dance, art and music in a 'down to earth' relaxed and welcoming atmosphere. A wonderful way to absorb the culture, no matter what your age. The centre offers both daytime and night time schedules and performances.
Cairns certainly will not disappoint and with so much to offer there is something for everyone! Are you ready to visit Cairns?