Australia is home to not just one, but two of the world's greatest railway journeys, and on an Australian holiday with Distant Journeys you'll travel across part of this vast continent on our luxury tours of Australia on one of these legendary trains, The Ghan and the Indian Pacific.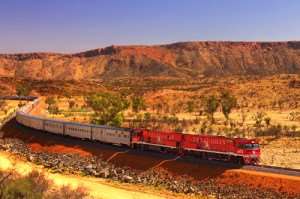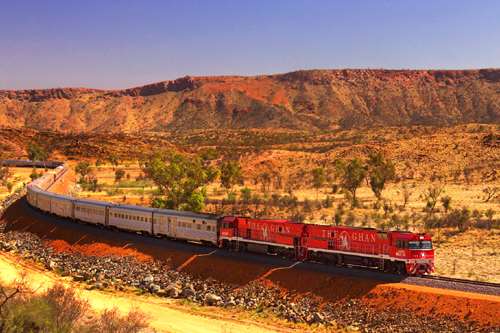 An overnight journey on The Ghan is included as part of our Wonders of Australia tour.  The Ghan connects the south of Australia to the north, with the length of its tracks totalling over 1800 miles, and takes its name from the Afghan travellers who first carved out the route over 150 years ago.
We begin our journey departing from the coastal city of Adelaide, which we also have the chance to explore before the journey, taking in its rich colonial history as well as its up and coming culinary and arts scenes. The journey stretches through miles of varying Australian terrain, taking in coastal towns, rolling farmland and hours of striking and distinctive outback, ending in the Red Centre itself at the town of Alice Springs, where we disembark The Ghan and stay for two nights before we will further proceed onto Ayers Rock.
You'll be able to enjoy the trip in style and comfort too, as Gold Service guests, with the overnight journey including private sleepers, an en-suite bathroom, and air conditioning, as well as complimentary meals and drinks to enjoy as you take in the scenery rolling by.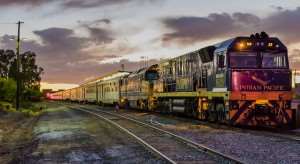 Our Visions of Australia tour includes a trip on the spectacular Indian Pacific railway, named after the two oceans which are connected by the tracks, stretching 2700 miles all the way across Australia from Perth to Sydney. We join the train halfway at Adelaide, making a stop for a tour of the isolated mining town of Broken Hill, also known as Silver City, and ending in the buzzing, thriving city of Sydney, which you'll also have the freedom to explore. Just like on The Ghan, you can also expect to ride in comfort with the train's Gold Service once again including en-suite bathrooms, private sleepers, air conditioning and complimentary food and drinks.
Image: Simon Yeo, Simon Pielow
Distant Journeys are proud to offer some of the world's best rail tours across our destinations. Find out more…
Save