If you find yourself in the northern territory of Australia, visiting Nitmiluk National Park on a tour is a must. The Park (formerly known as Katherine Gorge National Park) plays host to 13 breath-taking gorges where the Katherine River has carved its way through the landscape. The 70 metre high sandstone cliffs and stunning waterfalls make it one of the most popular national parks in Australia. For those lucky enough to visit, there are numerous ways to take in the scenery and a wide range of activities on offer.
Undoubtedly, the star attraction of Nitmiluk National Park is the Katherine Gorge. The only problem you might come across, is deciding upon the best way to view this natural wonder. But to help your decision, here are a few of our favourite options: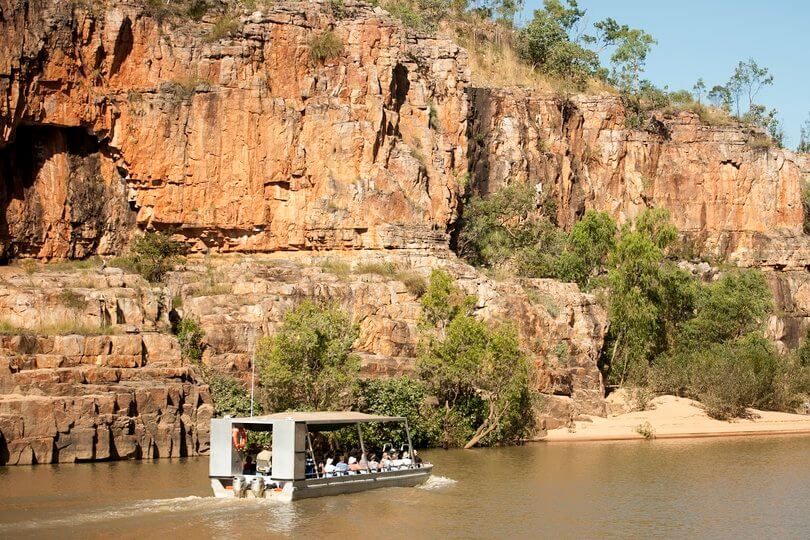 Cruises
A number of Nitmiluk tours are available including cruises along the first few gorges. The boat tours not only allow you to take in the jaw-dropping rock faces, but also the fascinating rock art of the Jawoyn people. For an alternative look at the Nitmiluk gorges, sunrise and sunset cruises are also on offer.
Canoes
For those wanting to venture further down the gorges, canoeing offers an adventurous way to do so. Canoes are available for hire or permits can be obtained to use your own canoe. If you want to make it an extra-special trip, you can even camp overnight in the park's magical surroundings.
Walks
If you prefer travelling on foot, Nitmiluk National Park provides a wide range of trails. If you're planning on spending part of your trip exploring the park, The Jatbula Trail lasts either 4 or 5 days, taking you on a journey that allows you to see all aspects of Nitmiluk, from Katherine Gorge to Leliyn (Edith Falls). Each overnight camping spot is located near to a natural water feature, ensuring every part of the trail is magical in its own way.
Helicopter
Arguably the most spectacular way to take in the gorges is to take to the skies on a helicopter tour. Not only does it provide a unique view of the vast landscape, but also allows you to stop and swim in some of the harder to access gorges.
Once you have taken in all the glory of the Nitmiluk gorges, make time to visit Leliyn in the west of the Nitmiluk National Park. If swimming in the deep pools of a cascading waterfall sounds like your thing, then there are few finer places to do it. With a campsite and picturesque picnic area, there's plenty to do should you want to spend a couple of days at the falls. However you choose to spend your time at Nitmiluk National Park, you are guaranteed to see sights and make memories you will never forget.
Save
Save
Save
Save
Save