With so many incredible things to see in Halong Bay, it is no surprise that this beautiful bay is one of the most breathtaking places to visit in Vietnam, and in fact in all of south-east Asia. With its glistening emerald waters and towering limestone islands and stacks, several featuring unusual shapes, Halong Bay offers truly other-worldly landscapes and a scenic playground for all kinds of outdoor activities.
Among the top things to do in Halong Bay are cruises, scuba diving, kayaking, rock climbing and hiking in the region's mountainous Cat Ba National Park. If you're unsure about what to do in Halong Bay when you first arrive, read on to discover the area's best activities.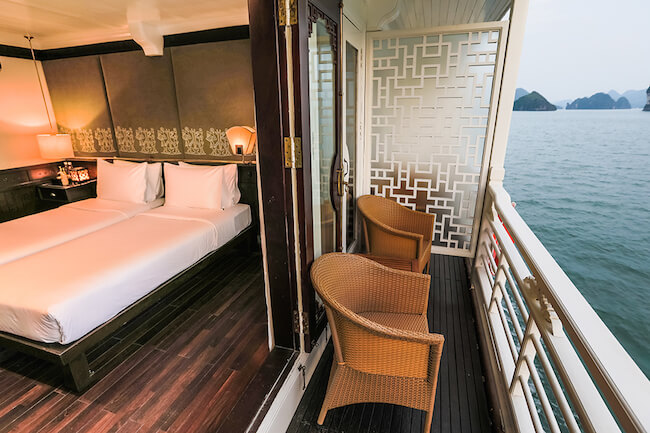 Soak up the sights on a cruise
Undoubtedly one of the best things to do in Halong Bay to soak up the very best sights is to sit back and enjoy the amazing scenery of offer from the comfort of a cruise. Whether you have just a day to explore Halong Bay or you're able to dedicate more time to discovering the area, there are several cruise operators available to cater to your needs.
Our recommended Halong Bay cruise is the incredible 3-day, 2-night cruise offered on board the luxurious Au Co. This is included in our tour of Vietnam visiting Ha Long Bay, and gently meanders its way amongst the towering limestone islands, giving you the opportunity to enjoy both the sunrise and the sunset, either from the sundeck or your own private cabin balcony. Delicious meals and onboard activities, including tai chi, tea ceremonies and an ethnic costume show, are all included in the experience.
The Halong Phoenix Cruiser is another Halong Bay cruise operator we recommend, offering a variety of journeys including a day trip up to a longer, two-night experience. The 2-night Kayaking Explorer gives you time to navigate the islands and islets, kayak through the Luon cave and visit a pearl farm, while if you're short on time, the day trip option offers the opportunity to ride a bamboo boat through a limestone cave and cruise around the Ba Hang floating village.
For a more authentic Halong Bay cruise experience, sail around the more remote reaches of Halong Bay on a traditional junk with Vintage Junks, who offer 2 and 3-day tours. Their fleet of 5 traditional red rust-coloured boats take you away from the usual tourist spots, with plenty of opportunities for kayaking and swimming, and also ventures into neighbouring Lan Ha Bay, which is equally as picturesque.
Combine your cruise with a cycling tour
If you'd prefer to spend some of your time exploring Halong Bay on land, why not try the unique cruise and cycle tour from Spice Roads? Cruise through the spectacular bay while dining on a seafood lunch before reaching Cat Ba Island for an unforgettable bike ride. Ride through a tropical rainforest filled with wildlife, before scaling Ngu Lam mountain for some of the most impressive views over the bay you'll get anywhere. The next day, after a scenic seaside cycle, you'll get to see local fishermen at work, before a wonderful cruise through a salt marsh and the awe-inspiring Thien Long cave.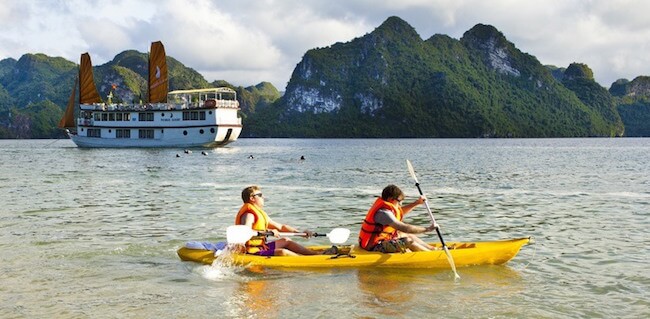 Paddle around Halong Bay by kayak
Perfect for reaching spots not accessible by boat, kayaking in Halong Bay is another popular activity. The calm, emerald waters offer the perfect conditions for kayaking for all abilities, and Halong Bay's scenery offers the perfect backdrop, whether you're looking to paddle across endless waters backed by towering limestone stacks, or explore the many tunnels hidden around the bay.
For safety, kayaking is limited to eight spots around Halong Bay, but the spots that are open to canoeing are some of the best in the world. Explore the floating houses and fishing villages of Ba Hang, Cua Van, and Vung Vieng; navigate the caves of Luon, Trinh Nu and Co Cave; and jump out of your kayak to explore the underwater lakes and coral reefs of Cong Do Island. To help you reach some of these incredible Halong Bay kayaking spots, Halong Bay Tours offer kayak cruises, with your cruise and kayak guided by an expert.
Explore the magical Cat Ba island
Just one of hundreds of islands found within Halong Bay, Cat Ba Island is recognised as a World Biosphere Reserve, offering tropical rainforests, sandy beaches, limestone mountains and coral reefs. The island-based tour operator Cat Ba Ventures make the most of Cat Ba's sheer variety of landscapes with a varied menu of activities on its books, ranging from hiking to sailing, kayaking and climbing.
Some of the best Halong Bay trekking can be found on Cat Ba Island, with a guide leading you deep into the jungle, through the valley to Frog Lake, and onwards to the top of the mountain for immensely rewarding views. Along the way you'll spot several wildlife species, ranging from native cats, squirrels and deer to colourful butterflies, and lunch in a local home is also included. For avid climbers, the small limestone islands offer the perfect spot for equipment-free climbing, with several routes up the limestone escarpments, and a bay of gentle, deep water to jump into when you're finished.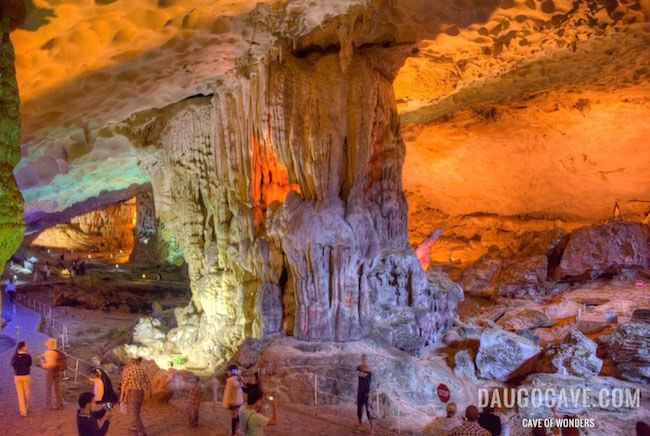 Venture into Dau Go Cave, the 'cave of wonders'
There are hundreds of hidden caves and tunnels around Halong Bay you could venture off and get lost in, but be sure not to miss the Dau Go Cave on Driftwood Island. From the bottom of the 90 steps climbed, the entrance appears a mystical blue, and upon entering the cave, you'll be mesmerised by the light and shapes inside.
The first chamber is filled with natural light and hundreds of stalactites hanging from its 25m high ceiling. Through a narrow passage, you'll discover a second chamber with smaller, but more intricate-looking stalactites, and a third and final chamber, where the stone columns conjure up images of soldiers, swords and spears, and a well of clear water is found at its edge.
Explore Halong Bay
Images and videos simply do not do Halong Bay justice – it's a remarkable place you really do need to see for yourself. Whether you're looking for an active adventure kayaking your way through the bay and its islands, or looking to sit back on a cruise, gliding through the emerald waters, there's an unforgettable experience in Halong Bay waiting for you. Take a look at our collection of Vietnam tours, which include a visit to Halong Bay, to start making dreams a reality.