The skyline in Auckland is visually very striking, and is dominated by one building in particular, the Sky Tower. The tower itself has a revolving restaurant, aptly named Orbit. The Sky Tower can be visited during your freedom day on one of your New Zealand holidays (2016), so with this in mind, we have taken a look at some of the facts and figures surrounding the great tower!
The Sky Tower is the tallest building in New Zealand, and stands at 1,076 feet, or roughly 328 metres, and took two years and nine months to build in its entirety.
The tower has three public circular observation levels, which offer a 360 degree view of Auckland. These are the Sky Deck, Main Observation level and Sky Lounge.
These observation decks, offer different opportunities for the very adventurous individuals to perform a SkyWalk, where you walk around the outside of the tower at 629 feet, and they even offer the opportunity to bungee jump from this platform as well!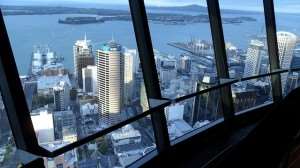 The tower has three glass-fronted elevators, which can take 225 people to the observation levels every quarter of an hour. The elevators travel at 18km per hour, and only take 40 seconds to travel from the bottom to the top.
Alternatively, there are 1,267 steps from the base of the tower to the Sky Deck. It would take the average person around half an hour to walk up all of the steps.
However, in 2009, the record for travelling up the tower in the quickest time was broken by a German man, Thomas Dold. His record is an incredible 4 minutes and 53 seconds.
The tower does offer spectacular views, and on a clear day, you can see for over 50 miles. You may be able to spot Great Barrier Island, Bombay Hills or the Waitakere Ranges.
Photos courtesy of russellstreet & Projectsnz, under Creative Commons