If you want to experience authentic Australia, to discover its most mysterious and magical landscapes, then you'll need to pay a visit to Alice Springs. The enchanting town is situated in Australia's alluring outback, and is every bit as captivating as you'd expect an outback town to be. Its rustic red rocks glow in the sun, ensuring it lives up to its name of Australia's Red Centre. Laden with Aboriginal art, made up of too many breathtaking landscapes to count, and generously wrapped in fascinating history, no matter the time of year or how many times you visit, you sure won't be short of things to do in Alice Springs. As our escorted tours of Australia visit here, there are countless attractions and trails we could recommend. But to help ensure you experience the best bits, we've put together our top 10 things to do in Alice Springs.
1) Up, up, up and away!
Enjoy a bird's eye view of the vast desert lands of the outback and the magnificent Red Centre in the most relaxing way possible – during a hot air balloon ride. As you gently rise above the rocky terrain, you'll look out on to unspoiled, breath-taking views for as far as the eye can see. This is one of our favourite things to do in Alice Springs, Australia.
2) Soar above the mountains
If a hot air balloon ride won't give you the adrenaline rush you're after, maybe a helicopter ride above the West MacDonnell Ranges, Kings Canyon and Uluru is what you're looking for. Keep a look out for native wildlife such as wallabies and eagles.
3) Discover where the wild things are
Speaking of wildlife, you can get as close as strict safety requirements will allow to some of the world's most lethal reptiles at Alice Springs' Reptile Centre. Prepare to meet deadly taipans, brown snakes, death adders, frilled-neck lizards and saltwater crocodiles, all at a safe distance, of course. However, if you are brave enough, there's often the opportunity to handle a python!
4) Conquer the Ranges
Ask any of the locals what to do in Alice Springs and they'll most likely suggest a hike along one of the West MacDonnell Ranges' many trails. And rightly so. There's over 400 miles of range to explore, so you should never find yourself stuck for somewhere new to discover.
5) Admire Aboriginal art
The area's many galleries ensure that there are plenty of things to do around Alice Springs, and plenty of opportunity for you to really immerse yourself in the culture. For example, at the Aboriginal Australia Culture Centre, not only can you admire authentic and historic artwork, but you can learn how to play the didgeridoo or even throw a spear, all to the sound of traditional music playing in the background.
6) Introducing the Flying Doctors…
Often, when asked what do to in Alice Springs, we'd recommend you visit an attraction that's a personal favourite of ours: the Royal Flying Doctor Service Base. The short museum tour shines light on the fascinating history of one of the first air ambulance services with state-of-the-art facilities tending to some of the most isolated areas of Australia. It's a real must for history buffs!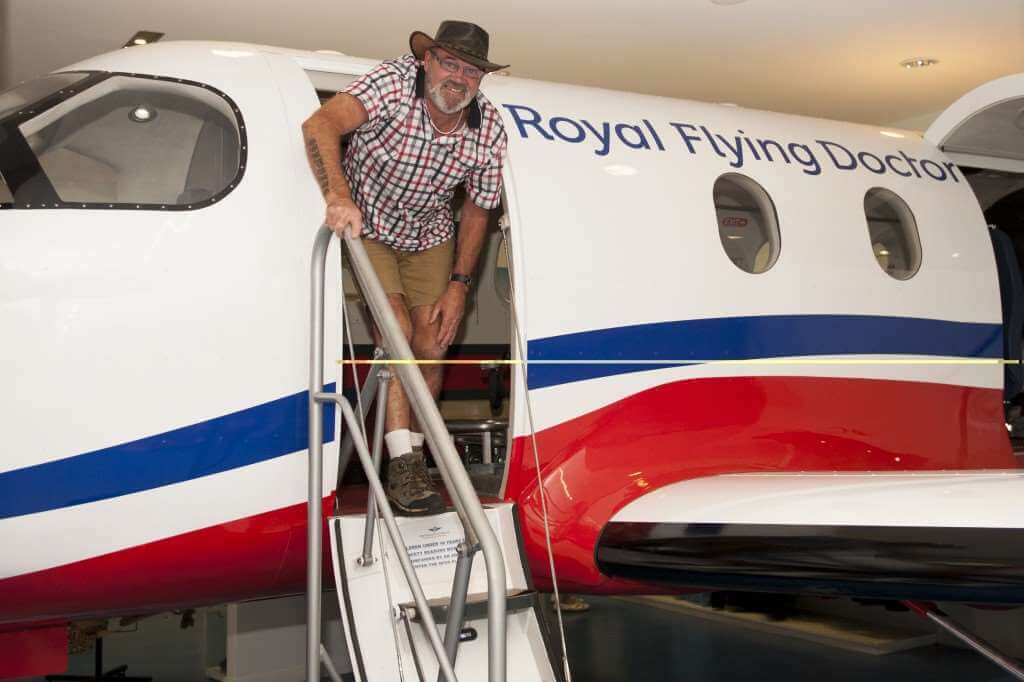 7) Hop on a hump!
Yes, that's right. With all that desert land stretching far and wide in the outback, we can't think of any more appropriate way to explore it, than on a camel ride. Whether you opt for just an hour or a whole day strapped to a camel's back, you'll get to enjoy spectacular views and make a new friend!
8) Relax in lush green gardens
In the midst of the dry, sandy grounds of the outback lies a lush green haven. Also known as The Olive Pink Botanical Gardens. Dotted around the manicured lawns are an impressive collection of exotic plants and native trees. You'll welcome a little greenery after spending time in the Red Centre.
9) Watch out for your feathered friends
Bird watching in Alice Springs is unlike bird watching anywhere else in the world. Pay a visit to Alice Springs Desert Park and you'll only have to look up to see a sample of the many birds who nest here flying freely. Spend a day at the park and you'll be amazed at how many different species you'll spot.
10) Experience a little education
What you might not have expected to find in Alice Springs is the world's largest classroom. The Alice Springs School of the Air is a unique school that offers children living in the isolated outback an education. At the visitors centre, you can take a virtual journey around the classroom while learning about the area's fascinating history, the unique outback lifestyle and the opportunities it brings to the local children. It's a great authentic insight in to what it's like to grow up in the outback.