The gateway to the Southern Alps and the Mount Aspiring National Park, Wanaka is a lively town set on the edge of its namesake lake on New Zealand's South Island. Home to beautiful hikes in the summer and excellent skiing in the winter, tourists travel to Wanaka from across both New Zealand and the world to take in the area's amazing scenery.
If you're wondering what to do in Wanaka, the options are truly endless. Whether you're seeking to embark on an adrenaline-fuelled adventure or simply soak up the scenery in a more relaxed manner, there are a whole host of wonderful ways to discover Wanaka.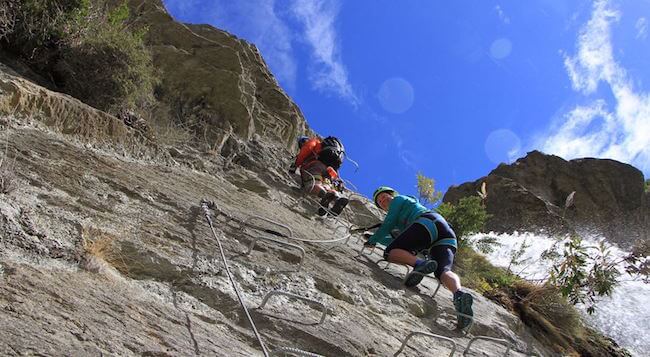 Scale the world's highest cable waterfall climb
For the truly adventurous at heart, scaling a ladder to the top of the Twin Falls with WildWire has to be one of the ultimate activities in Wanaka, New Zealand. Hundreds of steel rungs have been secured to the canyon walls, with climbers secured to a steel cable before climbing the Via Ferrata, which includes not only rungs but ladders, pegs and bridges too. The Lord of the Rungs climb sees you scale the entire height of the canyon in an epic 7-hour adventure, featuring hidden pools, suspension bridges, amazing surrounding views from the top and helicopter ride back down to the bottom.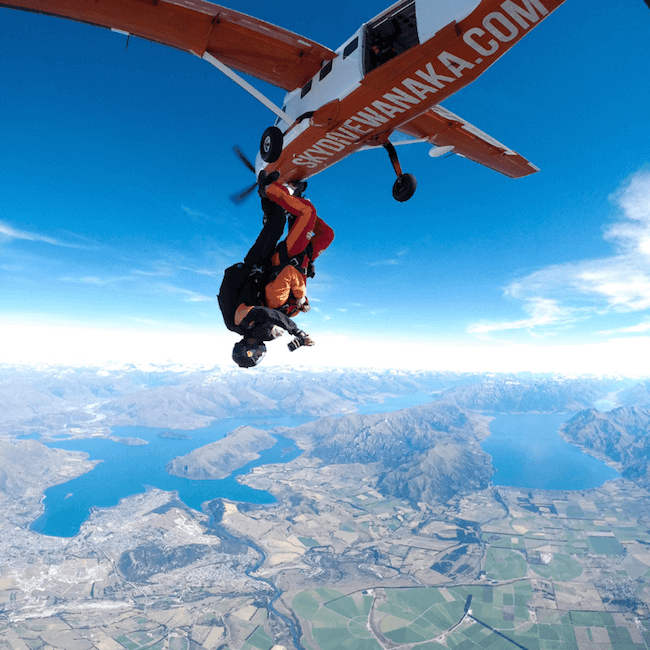 Skydive above the landscapes of Wanaka
Not for the faint-hearted, one heart-stopping way to try some Wanaka sightseeing is by hurtling thousands of metres through the sky from the door of a biplane, flying over a vast landscape of beautiful lakes, mountains, glaciers, forests and countryside. A skydive with Skydive Wanaka is simply a must-do experience for true adventure seekers. Flying for 10-15 minutes before reaching altitude, you'll be strapped to a professional skydiver before taking the plunge and soaring through the skies at 200kph, before pulling out the parachute and gently floating to the ground. You can even opt for a photo or video package to capture your amazing experience and prove you actually did it!
Discover Lake Wanaka on horseback
To discover Wanaka at a gentler pace, we recommend a horse riding excursion around Lake Wanaka with Waterfall Equestrian. Accompanied by a guide, you'll get to trek the lakeside trails around Lake Wanaka at your own pace, with plenty of time to stop and take as many photos of Lake Wanaka and the surrounding mountains as you'd like. Along the way, your tour guide will fill you in on some of the history of Lake Wanaka and the Rippon Vineyard, which you'll also get to visit for a wine tasting.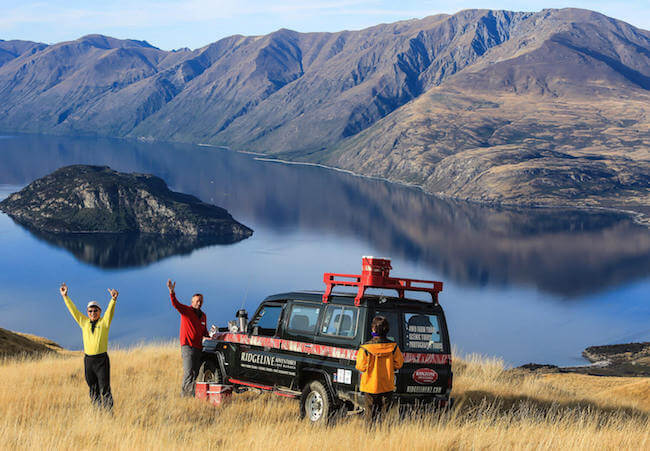 Go off-road on a 4×4 adventure
One of the best ways to see the true hidden gems of the Wanaka region is to go off-road, with a 4×4 giving you access to spots that can't otherwise be accessed. Ridgeline Adventures have a whole wealth of spectacular 4×4 tours to choose from, such as the Wanaka Highlights Scenic Farm Safari, passing stunning lakeside scenery and visiting a private mountain farm, where you'll get to discover modern farming life and encounter the farm's Angus cattle, red deer, alpacas, sheep and horses. The Wild Hills Safari also includes the farm visit, alongside lakeside forest and alpine meadow walks, and views from some of the area's highest peaks.
Take a scenic cruise to a remote island
Mou Waho Island is not only one of Wanaka's lesser-known beauty spots, but is also a nature reserve, home to a variety of fascinating birdlife, including the extremely rare Buff Weka, a flightless bird. With Eco Wanaka, you'll get to venture out to this incredible island and discover all of its secrets. After a gentle cruise across the lake, with spectacular views, you'll arrive on the island for an hour-long guided bush walk, where you can learn all about magical Mou Waho Island, starting from the beach and climbing to the top of the island for panoramic views, accompanied by 'high tea'. Looking out on the lakes and the mountains, this is a truly unforgettable experience, and you'll even get to leave your mark on the island by planting a native tree and keeping nature alive here.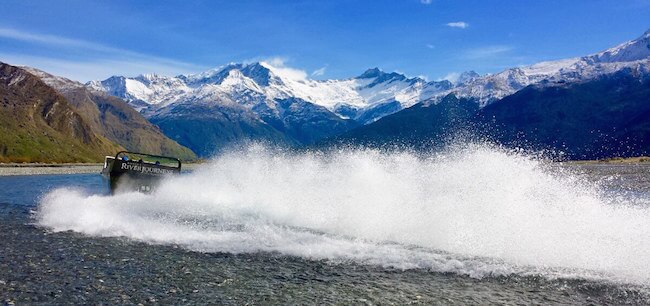 Embark on the longest jet boat tour in New Zealand
If both stunning views and top thrills are requirements on your Wanaka to-do list, look no further than the half-day Wanaka jet boat adventure offered by Wanaka River Journeys. Surrounded by glaciers, the Matukituki River is the perfect setting for a rip-roaring ride over the water, complete with shallow spots, sharp drifts into turns, dizzying spins and photo opportunities at the several deep pools. After speeding down the river, enjoy a 50-minute walk through dense forest, past waterfalls, trickling streams and even beneath Avalanche Glacier. For added adventure, you can also bolt a packraft experience on to your day, paddling your way along the waters in a lightweight raft.
Start planning your Wanaka adventure
Visit this incredible hub of adventure with our Very Best of New Zealand tour visiting Wanaka. On our incredible 29-day tour, you'll get to spend three nights in Queenstown, located an hour from Wanaka, and also enjoy a road trip along the shores of Lake Wanaka. You'll have the freedom to pack in as much as you like here, but the adventure doesn't end there; we take you all over New Zealand, taking in sights such as the Franz Josef Glacier, the thermal pools of Rotorua and the Bay of Islands.
New Zealand's climate can vary throughout the year, from scorching sunshine to inches of deep snow, so picking the right time of year for you is extremely important. Have a read of our blog to find out how to choose your New Zealand tour dates and plan your perfect holiday.
Featured image by Wanaka River Journeys