Christmas has quickly crept up on us once again and it's now just around the corner, with plenty of festive events filling up the calendar and the chance to take part in some of our favourite traditions, whether that's meeting Santa and his reindeer or roasting a turkey big enough for the whole family.
On the other side of the world, Christmas traditions in Australia are quite different, and it's always fascinating to find out how another country celebrates what is now a global holiday. Shaped not only by the fact that Christmas Day falls in the middle of summer, but also the quirks of Australian culture, there are a whole host of Australian Christmas traditions to take in if you're visiting Australia during the holidays.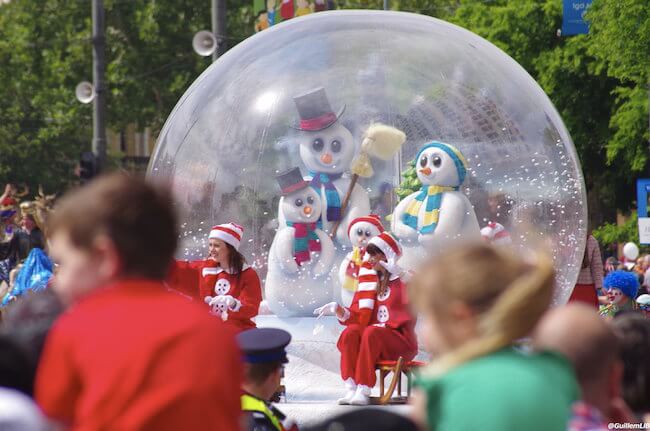 Image by Guillem Llorens Blanch
Adelaide Christmas Pageant
The Adelaide Christmas Pageant has been taking place and bringing Christmas magic to the streets of Adelaide since 1933, and its popularity continues to endure. More than 300,000 people line the streets of the South Australian capital to welcome Santa to Australia, who makes an appearance after a series of extravagant floats and entertainers. Marching bands, dancers and circus performers join the floats which feature everything from fairytale characters to snowglobes and gingerbread houses in the largest parade in all of the Southern Hemisphere.
Surfing Santas
If you're visiting one of the many stunning beaches in Australia at Christmas time, you may even spot Santa riding the waves – the sight of surfing Santas is not uncommon at this time of year. As Christmas is in the middle of summer here, celebrating Christmas down under means days on the beach and an opportunity for a festive paddle for keen surfers. At Bondi Beach in Sydney, a Guinness World Record was even set in 2015 for the most Santas out surfing: 320 in total.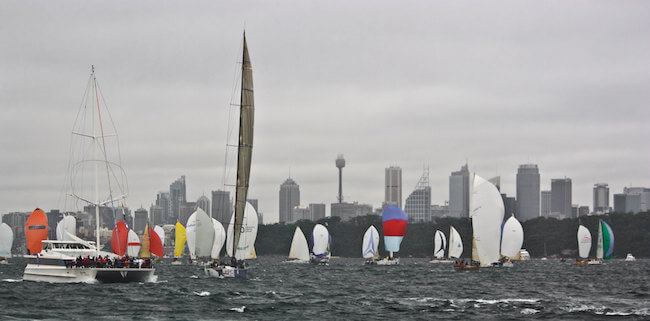 Image by James_W_Thompson
Sydney to Hobart Yacht Race
After the excitement of Christmas Day in Australia, many Australians love to spend Boxing Day simply relaxing in front of the TV, with many important sporting events taking place on this day. One such staple is the Sydney to Hobart Yacht Race, which has been taking place for more than 70 years and is one of Australia's most iconic sporting events. Competitors race more than 600 nautical miles from Sydney to Hobart, navigating harbours, rivers, bays and the Tasman Sea in one of the world's most gruelling ocean races.
Carols by Candlelight
For more than 80 years, Carols by Candlelight, organised by charity Vision Australia, has been aiding blind children and children with vision loss with its iconic Christmas celebration. Thousands gather in Melbourne's Sidney Myer Music Bowl to sing along to popular Christmas carols and tunes, waving candles in a magical festive gathering that has become an iconic Australian Christmas tradition. Carols by Candlelight is also broadcast on TV throughout Australia. Popular singers regularly join in with the proceedings, including stars of musical theatre and chart-topping acts.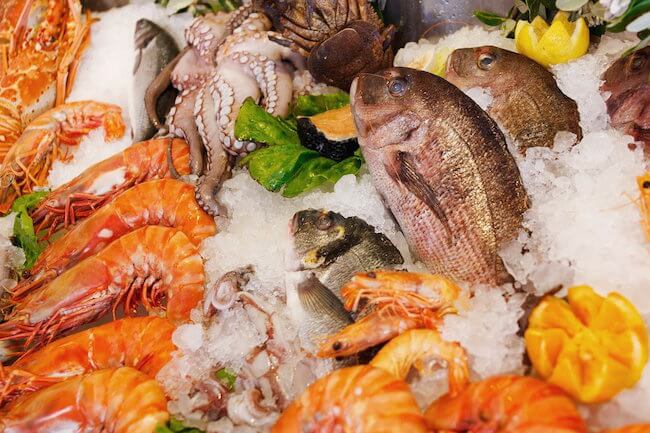 Dining on seafood
While turkey is the tradition in the northern hemisphere, Australian Christmas food is quite different. Christmas dinner often calls for a barbecue in the sunshine, with juicy prawns and delicious lobsters sizzling away on the grill, accompanied by cold meats and salads. At Sydney's Rydges World Square, there's no need to cook on Christmas Day, as they offer an indulgent Christmas Day seafood buffet, with tiger prawns, Sydney rock oysters, smoked salmon and more to tuck into. One tradition does remain the same however: dinner is always followed by a bowl of steaming hot Christmas pudding.
Boxing Day cricket
Alongside the Sydney-Hobart boat race, the cricket is also a must-watch on Boxing Day while everyone dines on the leftovers. Every year, Australia face off against another international team at the Melbourne Cricket Ground for the Boxing Day test. The test match can last all day, meaning a relaxed day in front of the TV for most, and a day's worth of world-class cricket for those at the cricket ground.
Spend Christmas in Australia
If you'd like to experience Christmas down under, why not try one of our fantastic and inspiring tours of Australia during the festive season? It's the perfect way to take in some of Australia's Christmas traditions and see how the holiday is celebrated in a different country, as well as exploring a truly beautiful and fascinating country. Our Very Best of Australia tour covers many of Australia's most popular destinations, including Sydney, Melbourne and the Great Barrier Reef, as well as many hidden gems hand-picked by us.
Featured image: Benjamin Sow