A trio of mermaids are set to make a splash in a New Zealand tourist town thanks to the owner of a local café.
If you've dreamed of seeing mermaids then the far north of New Zealand's north island is the place to head. That's because Jeremy Vaughan has recruited a trio of local ladies to play the role of mermaids outside his café in Paihia.
Paihia is in the Bay of Islands, one of the best places to go in New Zealand, and is set in stunning surroundings.
Now, as if the beautiful views weren't enough of an attraction, Jeremy has added another reason to visit.
Jeremy runs Letz Café and said he wanted to add an additional attraction in the town. "We draw in tourists because the area is so beautiful," he said, "but if we want more then we need to provide entertainment.
"That's what the mermaids are going to provide – hopefully people will see them and find them fun."
Jeremy imported four mermaid costumes from America and has recruited three local ladies to wear them.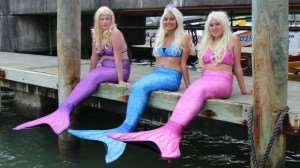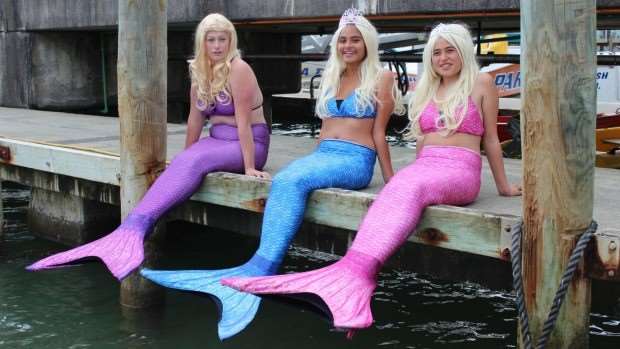 21-year-old Natasha Western, 18-year-old Kartamia Ranginui-Ritchie and 15-yer-old Jessie Ranginui-Ritchie will wear the costumes when cruise ships dock in Paihia and at any other time Jeremy thinks the town will have extra visitors.
"I'm here 100 hours a week," said Jeremy, "and I think I know what tourists want.
"I know that once they've been up and down the main street a few times they're going to start thinking about getting on board a boat and exploring the beauty of the Bay of Islands. If the mermaids entertain them for an hour or two then that's an hour or two longer they'll stay in the town and spend money."
He enlisted the help of Freddy the shark and Moby Dick the whale in a bid to woo customers.
The quirky idea isn't Jeremy's first attempt to woo tourists.
Last year he placed a giant plastic shark named Freddy on the sidewalk outside Letz café and saw 12,000 tourists have their picture taken with it. When the council made him move Freddy because the statue was causing an obstruction he replaced it with a Moby Dick monument – but this also had to be moved.
Jeremy said: "When tourists come to a place like Paihia they should be entertained and that's what the statues did. Now my mermaids will do the same job."