There's no doubt that your spectacular South Africa Tour will be full of discovery and wonder. So much so, in fact, that you may find yourself struggling to fit in all the fantastic things to do and see. When you visit the eastern coast of South Africa there is a wealth of sights and excursions particularly in and around the city of Durban. So to help you make the most of your time when you're looking for things to do, we have prepared the definitive list of the essential sights first time visitors really must see in and around Durban.
uShaka Marine World
To start our 'things to do in and around Durban' list, we have the highly impressive uShaka Marine World which spreads over 40 acres of fun-filled land. uShaka is home to numerous wonderful attractions including one of the largest aquariums in the world, which is proudly placed at the centre of the park. You can also find the thrilling Wet and Wild Water Park that has proven to be a family favourite and the Village Walk Outdoor Shopping Centre that offers a unique and cultured experience. If you are seeking something a little more adventurous then you can join onto an Ocean Walker tour where you will be able to walk across the open ocean floor with stingrays and a verity fish – all whilst wearing a tethered breathing helmet. Or if you are feeling even braver, then take a step further and find yourself in a clear cylinder surrounded by sharks in the Shark Dive Experience.
The Golden Mile
The famous Golden Mile was named to describe the spectacular eastern coastline that stretches along the golden sandy beaches. Starting from the south of Blue Lagoon to Durban Harbor, the stretch is actually closer to 4 miles. To accommodate visitors, there is a wide promenade ideal for a stroll, jog or bike ride.
Indian District
When wondering what to do around Durban that you could fit into a more relaxed style day, a trip over to the Indian District could be the solution. In 1860, South Africa experienced a wave of emigration from Indian servants. Then later in the 1880s there was another wave of Indian traders moving to the area, which has ultimately led to Durban earning the title of South Africa's most multicultural city, having homed the highest number of Indian families outside of India. As with any society, their authentic traditions and culture came with them, creating a beautiful district where you can find traditional medicines, aromatic spices, embroidered fabrics and traditional kurtas. If you would like to gain a deeper understanding of the heritage and history of the area then the guided oriental tour is highly recommended.
Tala Game Reserve
There are many things to see in Durban but don't be afraid to take a step out of the city and discover some of its surrounding sights. The Tala Game Reserve is less than an hour's drive from Durban, yet provides the full wonder of the great African bush. You can decide for yourself how to explore the land, with the options of a two-hour guided bushwalk, a two-hour game drive with a ranger or your own self-driven safari tour that can be done at your own pace. In this huge 7,400-acre reserve you can expect to find rhinos, wildebeests, warthogs, hippos and giraffes, as well as 380 different species of birds. If, after a remarkable day, you're still not ready to leave then you can book into the luxury lodges or rustic huts and spend all night long listening to the remarkable wildlife.
Valley of a Thousand Hills
South Africa's Valley of a Thousand Hills is located around 45 kilometres from Durban and makes for a stunning scenic drive away from the city sights. Amongst the hills many Zulu people live in small communities, still following the day-to-day life of their traditional culture. Amazingly, it is an area that tourists rarely explore, preferring to stick to the main roads. Tourists normally visit the Valley of a Thousand Hills in their own vehicle but there are daily tours available from Durban's city center with the Tekweni Eco Tours.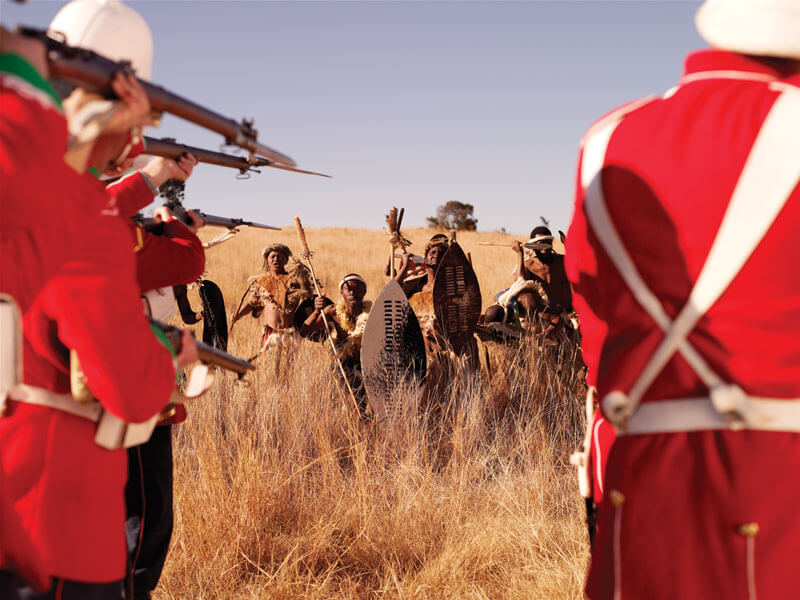 The Battlefields
If you're wondering what to see in Durban that will evoke some real emotion then you need to spend some time at South Africa's battlefields. Durban's Kwa-Zulu-Natal battlefields are a reminder of the merciless wars fought by the British, Zulus and Boers. This eerie place has a unsettling atmosphere, which is an unusual juxtapose to its beautiful landscapes. There is the option to drive through the historical battlefields where you can see the battle sites, historical buildings, museums and memorials. However, if you want to be immersed and fully understand this shocking history, it is highly recommended you follow the expert guides who will recount the events with great detail, making the experience truly unforgettable. Find out more here.
The Kingdom of Lesotho
Lesotho is a unique area of Africa and couldn't be any more different to its neighbouring country South Africa. Lesotho's land consists mostly of valleys and mountains, which can make it a lengthy journey if visiting by car, however you can fly from the city of Durban. There are many tourist attractions in Lesotho, like the breathtaking Maletsunyane Falls and the Katse Dam. But you won't have to spend much time wondering what there is to see in Lesotho, as a simple drive through the highlands will completely speak for itself.
The amazing city of Durban will not disappoint and with so many must see sights surrounding the city, you won't ever find yourself stuck for things to do. Whether you're looking for culture, scenery, history or adventure – South Africa has it all. So plan ahead and make your spectacular South Africa Tour one to remember.
Save
Save
Save
Save