Our very own travel experts Alex & Sarah have just returned from jam-packed three night break in the cosmopolitan city of Dubai. Experiencing everything from the luxurious futuristic skylines to the cultural souks of Dubai.
From seeing the world's largest fountain to their dinner under the stars, Alex and Sarah have documented their highlights and shared their amazing photographs from their adventures in Dubai.
The Premium Economy and Economy experience with Qantas
The Premium Economy experience
Boarding via the Upper Deck on the A380 for our outbound flight to Dubai, leads you through the Business Class section and onto the Premium Economy seating area. The seats in are spacious with a seat pitch of up to 42" and an integrated leg rest with foldout foot rest.
Before take-off, enjoy a glass of champagne then settle into the comfortable seat with a fluffy blanket and amenities kit.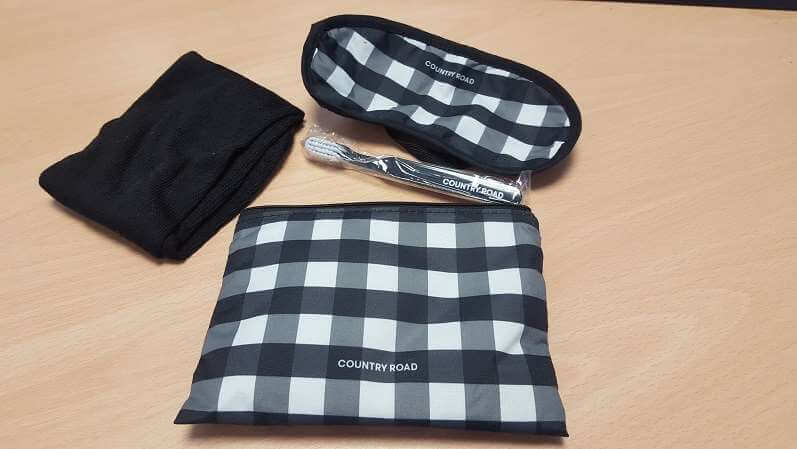 Later in the flight, a delicious dinner is served with a choice of Australian red or white wines and if you're still feeling a little peckish, there's even a self-service snack bar with bite-size muesli bars, fresh fruit and cans of soft drinks or beers.
After watching the variety of movies on offer with the noise cancelling headsets, it was a delight to recline the seat, foldout foot rest and drift off to sleep.
The Economy experience
On the return flight to London Heathrow in Economy Class, we boarded via the lower deck and settled in to our seats and offered a fruit juice before take-off.
Settling into our seats, I found the netted footrest from the seat in front really useful and comfortable to use. (Available on A380s and selected B747s) Your meal is served later with a choice of soft drinks, beer or wine.   During the flight, as with Premium Economy, you can pop to the self-service snack bar for the muesli bites, fruit and a soft drink or beer.
Overall, if your budget allows, Premium Economy with Qantas is a really comfortable way to travel with extra space helping make sleep a little easier and the service is almost on a par with business class.
A bit of luxury at the Marriott Hotel Al Jaddaf
Just a short 15 minute drive from Dubai Airport, the Marriott Hotel Al Jaddaf has an impressive, light and airy lobby and reception area, where we were warmly greeted and the check-in process was fast and efficient.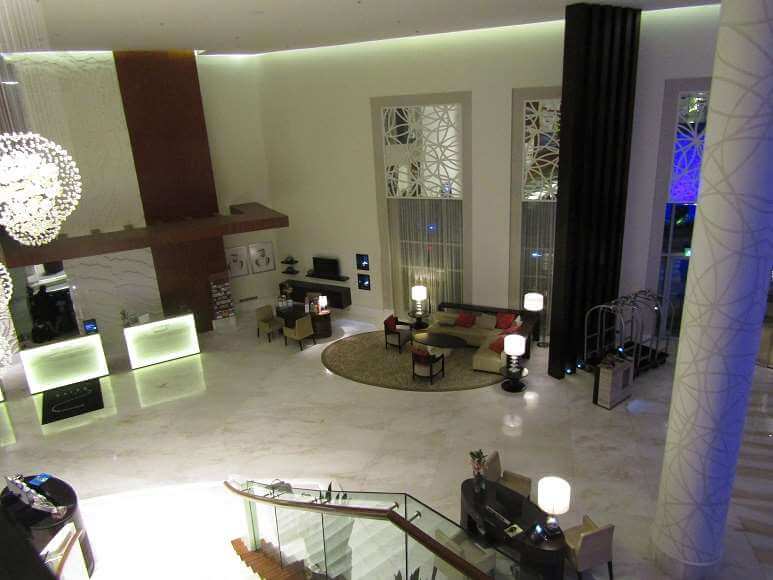 Our rooms, on the second and fourth floors respectively, both had a view of the spectacular Dubai skyline and were large and bright with a contemporary feel. The bathroom was lovely, with a freestanding bath by a floor to ceiling window (with a blind!) into the bedroom so you could have a soak in the tub whilst gazing at a view of the tallest building in the world. The room has a safe for valuables, and a useful mini-fridge.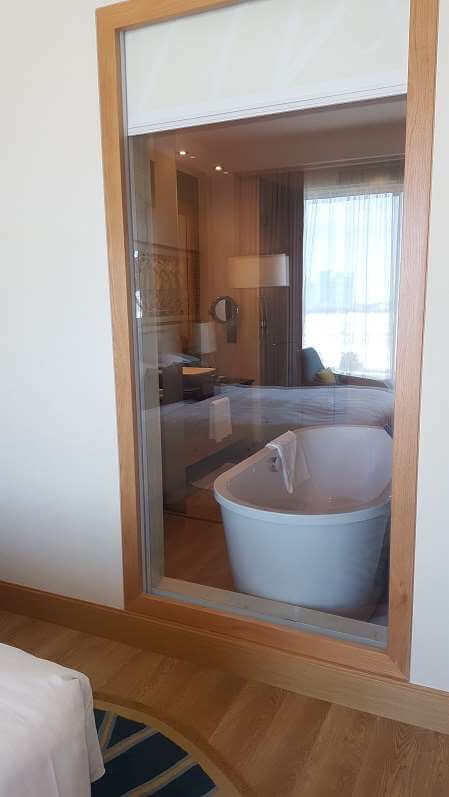 We wanted to get our first taste of Dubai sunshine so headed to the 7th floor rooftop pool, accessed via the beautiful Saray Spa. We didn't have time to use it but it was cool and tranquil and smelled amazing.
The pool isn't huge but it's more than large enough to swim a few cooling lengths, and there's a pool bar with friendly staff who will provide you with towels for your sun lounger.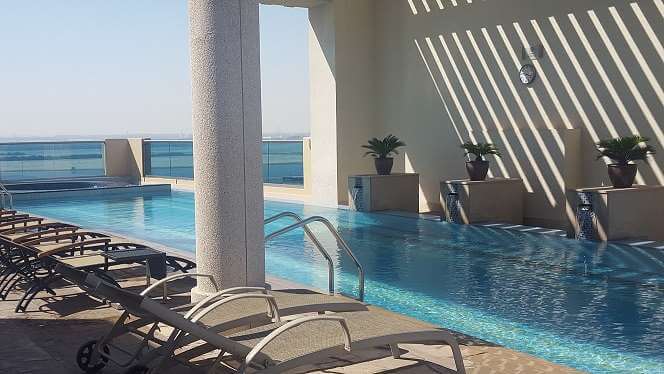 Breakfast is served in The Market Place, and to describe it as a buffet-style breakfast really doesn't do it justice. The choice is vast, with every type of hot or cold dish you could think of and more besides. There are the usual eggs, sausages and bacon, fruit and cereals as you would expect but if you feel more adventurous there are breakfast specialities from Asia, the Middle East, India, Thailand, Malaysia and Indonesia – reflecting the hotel's international clientele.
We didn't get a chance to dine at either of the Marriott Al Jaddaf's other main restaurants; Merletto for popular Italian classics and Scots American Grill, serving steaks and seafood. However, in the interests of research only of course, we did sample a nightcap at Shanghai 30. This stylish and social bar is perfect for a relaxing drink and shows live sports – there's also a three-hour Happy Hour every evening.
Our stay at the Marriott Al Jaddaf was all too brief, but what stood out most for both of us was the standard of service we encountered from every staff member. The concierge staff in particular could not do enough to help, and this was typified by them greeting us on our return from an evening out by opening our taxi door with a 'Welcome Home'. The Marriott Al Jaddaf really is a home from home in the desert of Dubai.
The Sundowner Dune Dinner Safari
If you're looking for a fun evening and have a sense of adventure, the Sundowner Dune Dinner Safari is a must.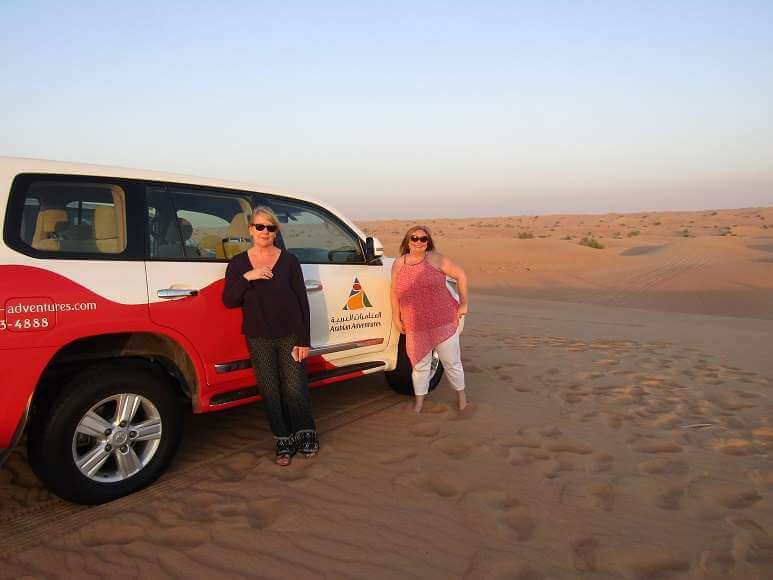 After being picked up from the hotel in our 4×4 jeep, we were driven to the Dubai Desert Conservation Reserve for the start of our adventure. After watching a brief falconry display, we held on tight and the fun began.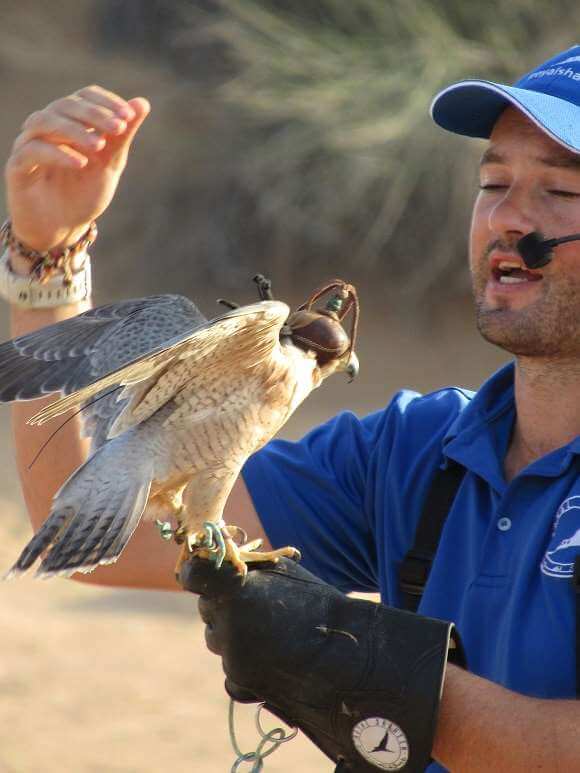 After an exhilarating drive up and down the sand dunes, we watched a beautiful sunset before heading to the traditional Bedouin style camp for a delicious BBQ dinner and entertainment, from camel rides and belly dancing to henna hand painting and stargazing.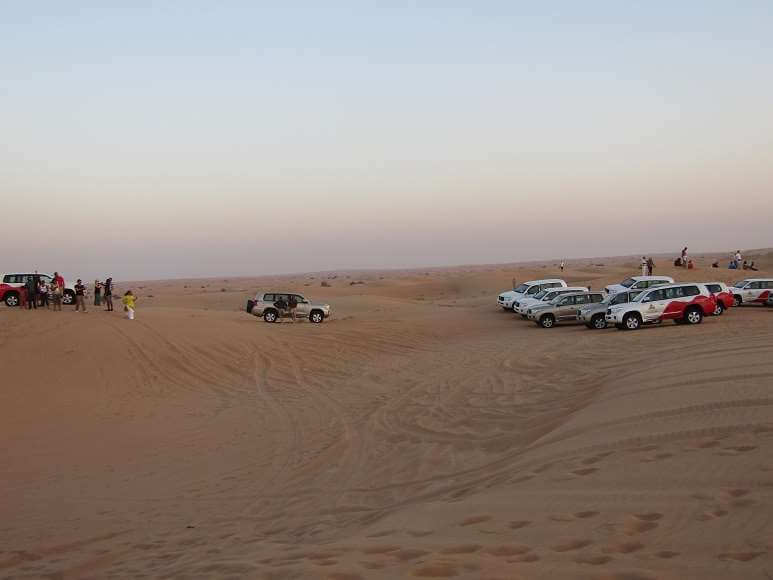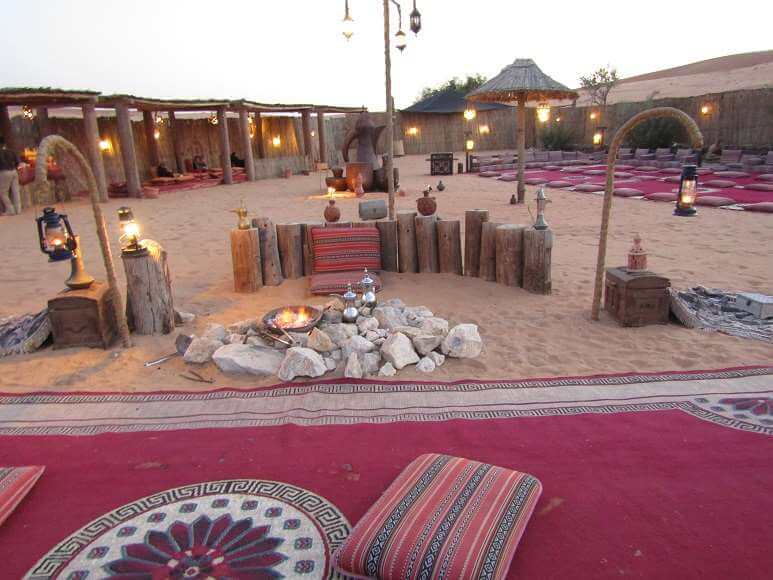 Traditional Bedouin Camp, plenty of seating area on padded cushions. They'll even give you a chair if you can't sit on the floor.
Traditional Dubai City Tour
A world away from Dubai's high rises, malls and man-made wonders, there is another side that still exists to prove that Dubai was once just a sleepy fishing village on the banks of a creek. Alex and I were taken on the Traditional Dubai City Tour to get a taste of the city's history and Arabic heritage, beginning with a visit to the Dubai Museum situated in Al Fahidi Fort, whose walls are made of ancient coral.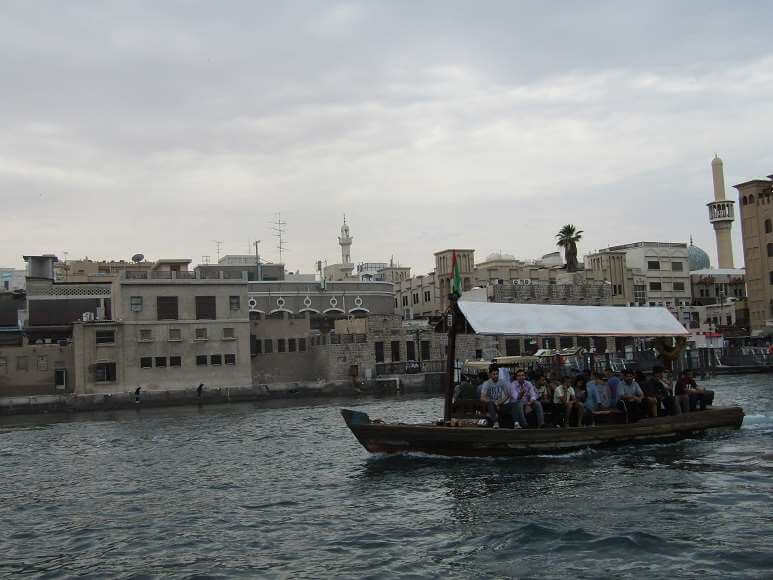 We then crossed the Dubai Creek in an abra, a traditional water taxi, to the district of Deira. Once the traditional centre of commerce for Dubai, this area is home to the Gold and Spice Souks where we wandered the narrow alleys past traditional shops and stalls soaking up the exotic smells, sights and sounds of an Arabic market. One popular attraction is a shop displaying the world's heaviest gold ring –it's not for sale but I doubt it would fit my finger anyway… Haggling over the price of goods is expected, and with our guide's help we bought a few bargains. Anwar seems to know every single person in Dubai, and watching him barter in Arabic with shopkeepers whilst at the same time chatting in Spanish to a group of Argentinian holidaymakers was quite an education!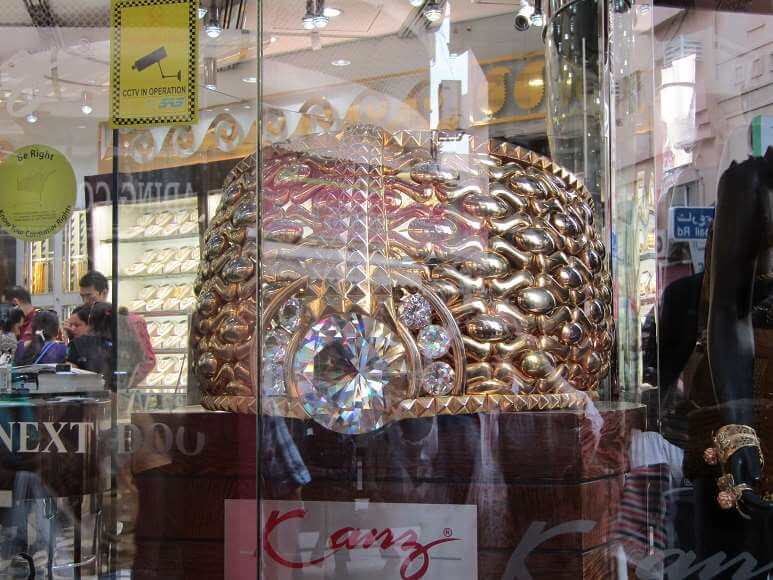 Our traditional Dubai city tour also included a stroll through the cobbled streets of the Al Fahidi Cultural Neighbourhood to view the iconic wind towers and art galleries, and a photo stop at the Jumeirah Mosque. Returning to our hotel, the Marriott Al Jaddaf, we passed the Zabeel Palace which is the official residence of Sheikh Mohammed Bin Rashid Al Maktoum, ruler of Dubai and Prime Minister of the UAE.
It was a fascinating few hours, and well worth doing to see that despite Dubai's rapid and staggering growth, the city still retains the atmosphere and charm of its Arabic heritage.
At the Top – Burj Khalifa
Amid the gleaming skyscrapers that dominate the Dubai skyline, one stands taller than the others; taller, in fact, than any other building in the world. The Burj Khalifa is a monument to Dubai's determination to have the biggest and best of everything, and Alex and I made sure we didn't miss out on this must-see experience by booking our tickets to At the Top.
Accessed via the Dubai Mall – think the Trafford Centre multiplied by 100 – we joined a short queue for our allotted time and went through airport-style security screening before entering the elevator to take us to level 124. Inside the elevator, atmospheric lighting and music adds to the sense of theatricality as the journey begins – and ends 60 seconds later having ascended at a speed of 10 metres per second. Amazingly, the only indication I had that I was moving so quickly was that my ears popped slightly.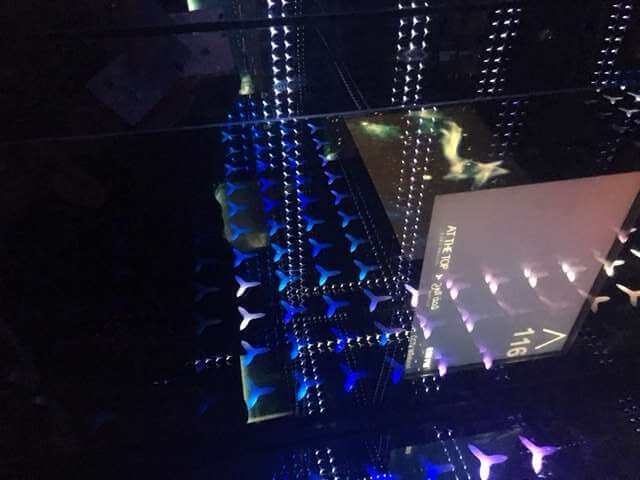 Once on the Observation Deck on level 124, selfie sticks were very much in evidence as people enjoyed the staggering views, although it must be said this is not an experience for anyone suffering from vertigo! It is certainly strange to see Dubai laid out beneath you like a model village, vast skyscrapers shrunk to miniature size.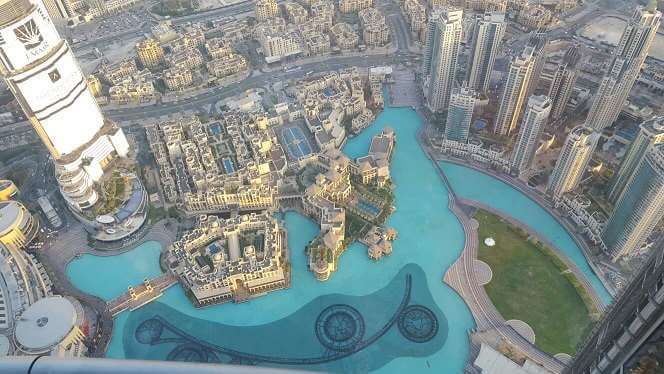 From this level, you can walk up another short flight of stairs to the next floor where there are floor to ceiling panoramic windows – we were lucky to be there in time to view the sunset, and from there we could also see The World – an artificial archipelago of small islands constructed in the rough shape of the world's continents.
There are also rest rooms, and in line with Dubai's taste for superlatives, you can experience the world's most costly toilet flush (just think how far that water has to travel…)
Descending in a different, slightly slower elevator, we arrived back on terra firma and celebrated our amazing experience At the Top with dinner at Carluccios, an Italian restaurant with an outdoor terrace on the Waterfront Promenade of Burj Lake, home to The Dubai Fountain. We sat back with our Virgin Mojitos (bear in mind that in Dubai, not every restaurant is licenced) and enjoyed the spectacular performance of the dancing fountains as the water jets 'dance' in time to music.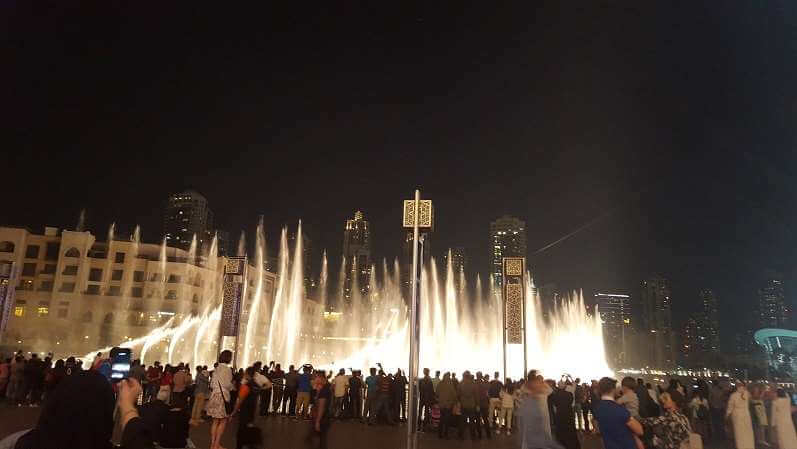 Soaking up the atmosphere from one of the best vantage points and people-watching spots in Dubai was the perfect way to round off an evening where for a short time Alex and I were truly on top of the world!