When heading on an African adventure there will certainly be an endless list of places on your bucket list and Victoria Falls is definitely one you will want to cross off. The world's largest waterfall which straddles the border of Zambia and Zimbabwe is deservingly one of the seven natural wonders of the world. Take a look at our 6 reasons below to makes sure you know why to visit Victoria Falls on your next trip…
Visit one of the seven natural wonders of the world
When a sight is named as one of the seven natural wonders of the world then you know you are in for a treat. In the 1800s the local Kololo tribe named the waterfall as 'Mosi-oa-Tunya' or 'the Smoke that Thunders'. The wide basalt cliffs and powerful Zambezi river together create a waterfall like no other, spilling over 500million cubic metres of water every minute.
Swim in Devil's Pool
Why not take a tour of Victoria Falls where you can swim metres away from where the Zambezi River plummets down 108 metres beneath you? Rightly so, this jaw-dropping pool situated on the Zambian side is named 'Devils Pool'. When the river level drops each year a magnificent rock pool is exposed, creating the most scenic plunge pool on earth and an ideal photo op. Make sure you consider the best time to visit Victoria Falls as Devils Pool is only open between late August and early January.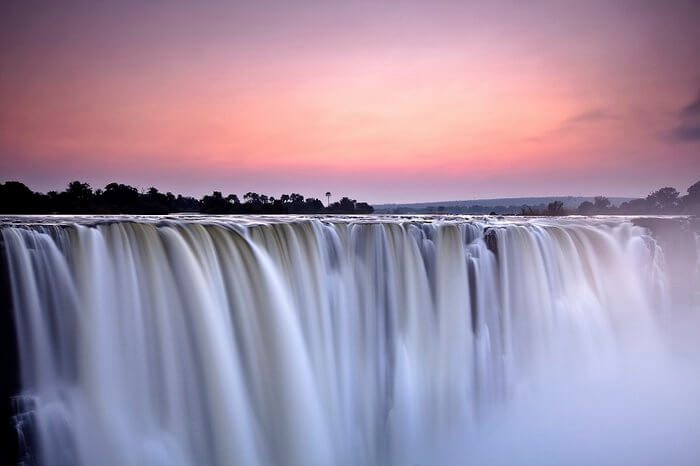 Sunset cruise
A sunset cruise is the perfect way to end a day at Victoria Falls. As the African sun falls you can relax and take in the awe-inspiring views as you glide along the Zambezi River. There is no better backdrop for this natural wonder and if you're lucky, you may very well spot a few hippos bathing along the way.
Water activities for all
Whether you fancy a leisurely canoe down the Zambezi or an adrenaline-filled white-water rafting adventure, there really is something for all explorers. If you prefer to stay on land, Victoria Falls is an excellent location for both experienced anglers and beginners to have a chance at reeling in a Tiger fish. Don't worry about cramming all these exciting activities into one day, you can always stay the night at the Victoria Falls safari lodge.
Safari
An African trip wouldn't be complete without going on safari, and at Victoria falls you will be spoilt for choice. You can discover the wild on foot with a walking tour through the Zambezi National Park or if you feel brave enough why not climb up onto an elephant and go on a safari led by one of Africa's most magnificent creatures. If you'd be more comfortable on horseback then you can also canter through the African bush.
Flight of Angels
Since the discovery of the falls by David Livingstone in the 1800s, helicopter flights taken over Victoria Falls have been known as the "Flight of Angels" due to the unbelievable beauty that Livingstone described. There is no doubt that hovering above the falls and the dramatic landscape will be a breath-taking experience for all.
We think that everyone will marvel at this wonder of the natural world. Visit Victoria Falls and we guarantee a trip of a lifetime. Remember, it's only a short flight away from Johannesburg so it can also be a perfect complement to an unforgettable tour of South Africa!