The Great Barrier Reef is an astounding feat of nature, with its vast size, array of species and glorious beauty. Bearing all of this in mind, it is no wonder that Great Barrier Reef holidays are incredibly popular and provide the experience of a lifetime. Here's ten facts about the Reef that you may find interesting: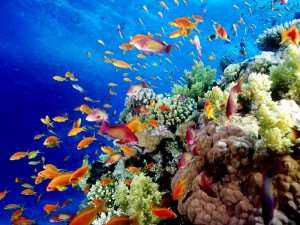 The Great Barrier Reef is not in fact just one reef, but a cluster of over 2900 coral reefs and a collection of over 900 islands.
It is around 2300km, or 1400 miles, long, making it one of the world's largest geographical features. Like the man-made Great Wall of China, it can be seen from outer space.
It has a vast surface area of 344,400km2, which is the same as over 70 million football fields. This is also roughly the same size as Japan, Germany, Malaysia or Italy.
One of the most popular tourist destinations in the world, it has over 2 million visitors a year, with many staying in nearby Cairns.
The Great Barrier Reef first appeared over 18 million years ago, with the current reef we see today having grown over older reefs for the past 8000 years – since the last Ice Age.
It has more different species per cubed metre than any other natural environment in the world, including tropical rainforests.
Around 10% of the world's fish can only be found in the Great Barrier Reef, showing the highly important role that the Reef plays in the world's biodiversity.
The Great Barrier Reef is home to around 1625 types of fish, and 133 kinds of sharks and rays.
Australian Aborigines have lived alongside the Great Barrier Reef for over 40,000 years, with it playing an important role in Aborigine culture and way of life.
It is a UNESCO World Heritage Site and also labelled one of the Seven Natural Wonders of the World.
Save
Save