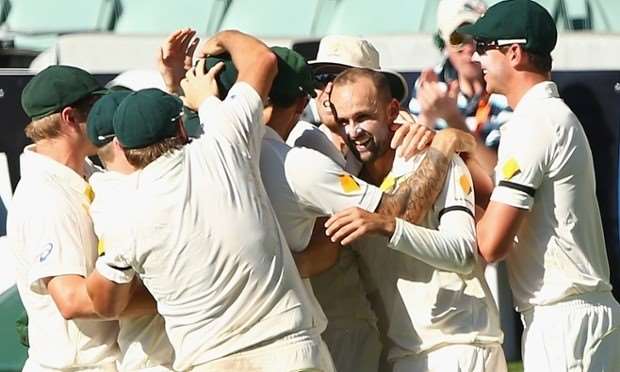 Australia win first test in Adelaide

Australia win first test in Adelaide
Australia's cricketers have won an emotional first test of a series against India in Adelaide just a few weeks after batsman Phil Hughes died when he was struck on the head while batting in a regional match.
Hughes' death caused shockwaves around the world after he was struck by a Sean Abbot bouncer while playing for South Australia in a Sheffield Shield match at the Sydney Cricket Ground in November.
In Australia his death caused a huge outpouring of grief among the tight knit cricketing community, and several games were postponed or cancelled in the wake of his death.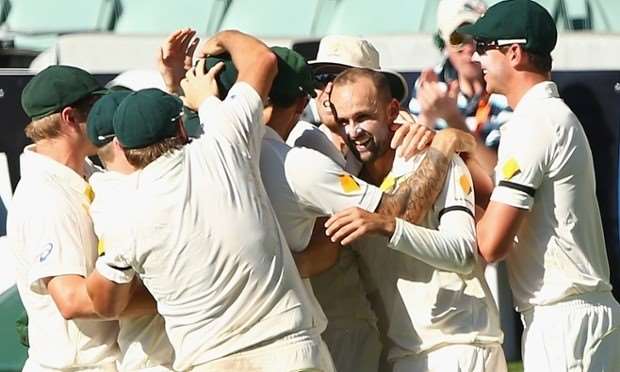 Hughes was the 408th player to have worn the baggy green of Australia and his eulogy was read by Australia captain Michael Clarke at his funeral. Members of the Australian squad were present at the service, which was attended by more than 5,000 people, and were visibly upset throughout.
As a result of Hughes' death the first test of the series against India was postponed and the second test instead became the first, which fittingly meant Adelaide, Hughes' home ground, would host the first test of the series in his honour.
In these circumstances it is perhaps unsurprising that Australia's cricketers steeled themselves and made sure India's Adelaide tour would be an unsuccessful one.
Determined to pay tribute to Hughes' memory by winning, the side managed to accrue a huge 517-7 declared in the first innings before bowling India out for 444. In the second innings Australia again declared, this time on 290-5, before spinner Nathan Lyon contributed career best figures to bowl India out again for just 315, handing Australia a 48 run win.
Lyon's match figures of 12-286 made him the hero, but few people talked of much other than Hughes' memory following the game.
After the match Clarke said he felt his side had "done Phil proud". He said little when asked whether he felt the win was a fitting tribute to Hughes: "I'd rather not talk about Phil too much because the world must be sick of seeing me cry on television, but I do know he will be proud of this win."
Indian captain Virat Kohli also paid tribute to Hughes, before also praising the Australian side. "Congratulations to the whole Australian team for turning up and participating in this match," he said. "It's a real credit to them on how they played after a tough last 10 days, it was a commendable effort."
Australia and India will now move on to Brisbane for the second test, where action got under way two days ago.
Save